Here's what to do if you think you can never be like the people who exercise daily and like it
If you're tired of seeing exercise as punishment.
If exercise is a chore that feels too much for your schedule.

YET
You want to do what is good for you and your health. You want to get the "exercise high." You miss those days when you exercised and how that made you feel.
BUT
You don't think you can get there.
You doubt your ability to start yet another exercise problem and actually stick to it.
You think you lack discipline or time.
You think you're not cut out for exercise….
…then this is the most important letter you'll ever read. Keep reading.
Real Exercise Bliss Results:
How Krista Lost 25 Pounds By Building The Habit First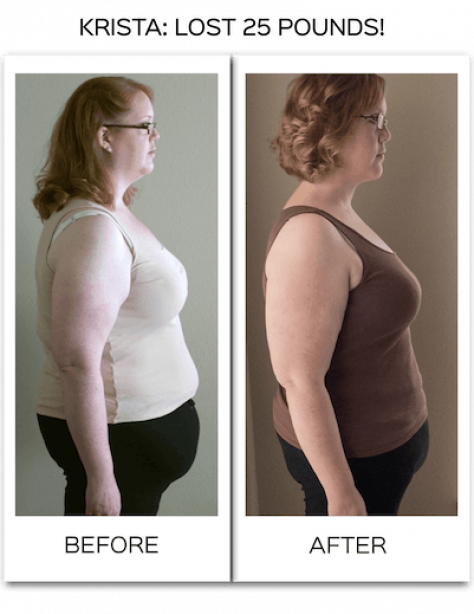 She didn't want to just "accept" she would be overweight forever
In her interview Krista mentioned how she had read a book that talked about body acceptance and urged her to love her body as it was and stop trying to change. She felt that the book was suggesting she would be overweight forever and she should just come to terms with it!
She got angry. She didn't want to accept that that would be her situation forever. And that's when she enrolled in Exercise Bliss.
Two months later, she's exercising daily!
In EB we start out gently, so she started by holding the plank for a few seconds. She did all the Mind reprogramming exercises offered in the program. Two months later when she graduated she already had a daily exercise habit that she actually enjoyed!
Then, the weight started to come off naturally – without dieting!
Then, a few months later I announced a new exercise program, geared to get results in little time. She got in and went from doing gentle exercise to doing high intensity exercise!
A few months later she had already lost 22 pounds, and then 25 pounds from her high intensity effort. I even featured her results here. Now it's been more than a year later since she first got into EB and she's still exercising.
Is she thinner than a year ago? Yes she is. Does she have a new healthy habit that she actually likes doing? Yes she does. More than a year later she's still exercising. As she said: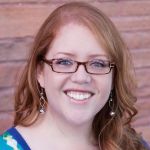 I no longer shame myself because of my size
Now that I am finished with the program, I have continued to establish small tiny habits to make positive strides with creating a healthy lifestyle. I am learning to appreciate my body and I enjoy the way my body feels after a challenging workout. I still have a long journey to reach my desired target weight, but I no longer shame myself because of my size, because I am making daily strides to reach my goal, and for that I finally feel at peace with my body.
– Krista B., Teacher & Photographer, Exercise Bliss Graduate
---
Now I have a question for you…
Would you want to become like the people who have made daily exercise a second nature?
Would you LOVE to exercise every day, just because this is something you do, not because you force yourself to do it?
Would you LOVE to see yourself in the mirror and take secret pride in the new definition your body gets?
Would you love to know that you're doing the right thing for your body and your health?
Would you love to answer "yes" when your doctor asks whether you exercise?
Would you love to inspire your children to adopt the same healthy behaviors as you?
If yes, keep reading…
Give Me 8 WEEKS And I'll…
Show You How To Exercise Daily & LOVE IT!
Is Exercise Bliss NOT for you?
Today is the day where you decide if Exercise Bliss is right for you. Before I walk you through exactly what you'll get in Exercise Bliss, let me tell you who this program is NOT for:
You don't want to devote 1-2 hours a week to yourself: understanding why you do what you do, changing how you think, and taking care of your body.
You have an event to attend in three weeks and you're looking for quick results. You don't care if you drop exercise starting week 4.
Even though you've tried to stick to exercise multiple times in the past, and even though it never actually worked, you believe you'll find a solution on your own and are not willing to get help.
Is Exercise Bliss perfect for you?
If you can say "YES" to
any of these questions…I believe you're PERFECT for Exercise Bliss.
You have a treadmill at home, or fitness DVDs that you wish you used…but don't.
You have exercised for a month or two, but never found a solution so that you could actually stick to it.
You are not looking for shortcuts like weight loss pills, or blackmailing yourself by buying an expensive gym membership and then guilting yourself to actually follow through.
You are on a downhill and really want to change, but don't know how to make it happen.
You want step-by-step instructions that lead you to success. You don't want to keep having to "figure it out" yourself, going from one failure to another. You want to follow proven strategies, so that you can stop wasting time.
As I said, if you answered yes to any of those questions, you should keep reading, because Exercise Bliss will be a game-changer for you.
Does looking forward to exercise seem IMPOSSIBLE?
You won't be the first one to join the program and feel this way.
Some stopped worrying about time…

I got in shape, without stressing my schedule!
I finally managed to fit exercise in my hectic grad student schedule, without even having to worry too much about it. EB helped me create an exercising habit while taking away the stress and the hassles related to adding more to one's schedule. I have gotten in better shape and I love it!
– Eleana M., PhD Candidate, Exercise Bliss Graduate
Some stopped feeling overwhelmed…

I exercise because I want to!
It's finally not overwhelming to think about exercising, it's more like I really want to do it, it's a promise with myself without guilt.
– Karen E., Manager, Exercise Bliss Graduate
Others stopped feeling guilty…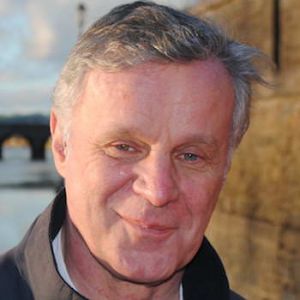 I no longer need to push myself to do it

I used to feel "fifty shades of guilt" about exercise. I was doing a lot of walking, but knew I needed to work out in some way, to get myself fully fit and in the best shape.
I now do exercise in some form several times each week, without having to push myself; and free from guilt if I miss a day because I know I can rely on my habits to keep me on track.
– Steve S., Entrepreneur, Exercise Bliss Graduate
Why Exercise Bliss Works
1. Work out At Home With No Equipment
Too many options make us overwhelmed. In Exercise Bliss, you'll get 5- to 16-min home workouts, so that you know exactly what to do, without having to leave the house and, e.g., spend an extra 30 min to go the gym and back.
2. Make Exercise A Daily, Non-Negotiable Ritual
We help you build an exercise routine brick by brick. From when to do it, to what to do, we got your covered. Plus, our system keeps you accountable. Regular e-mails keep you on track.
3. No More Sabotaging Your Own Efforts.
You skip a workout and feel like a loser. You worry about when results will come. All these thoughts only make you more likely to quit exercise. We'll teach you specific tools so that you turn your mind from an enemy to your biggest supporter.
Here's What's Included in Exercise Bliss
The problem with home treadmills, gym memberships + exercise DVDs.
You may buy a treadmill, enroll at a gym, or get the fanciest workout DVD. But here's the problem that will inevitably come up if you haven't already made exercise a habit:
The DVD doesn't tell YOU how to include it in your life.
It doesn't tell you when it'll be best for you to follow the workout. It doesn't tell you what to do if you planned to work out this evening, but, hmm, life happened.
Instead the burden of including exercise in your life and following through, is all up to YOU.
But it doesn't have to be this way. In Exercise Bliss, we give you step-by-step, expert guidance on how to make exercise a habit. You don't have to figure it out – you only need to follow our instructions!
You don't have to figure it out – You only need to follow the Habit Recipe!
First, you'll learn how to exercise daily for 5 minutes at a time.
At first this might sound easy. But is it really?
5 minutes a day might at first sound simple, but when you care about sticking to exercise for more than a month, you see that it's not that simple after all.
When will you do it? When you wake up? When you come home from work?
And if you choose to do it when you wake up, do you mean right after you get out of bed, or say, after brush your teeth in the bathroom?
Also – what will you do? Will you do the same workout every day? A different one? What's the best sequence?
Will your workout be on a piece of paper, will it be a video, and how does this change your habit? E.g., if it's a video you may need your smartphone or tablet next to your bed so you can exercise right after you get out of bed.
But wait, will you wear workout clothes or do it in your pyjamas?
If you choose workout clothes you'll need to either sleep in them, or wake up, get up, change clothes, and then work out.
So maybe you need your smartphone or tablet next to your closet instead of next to your bed.
I mean, imagine if you have to look for your smartphone, instead of just grabbing it from the top of your drawer and getting started. It's a busy morning you need to get exercise done, you have no time to waste on "where's my phone?" That's why preparation is crucial.
Next, ok so you worked out. How do you know if your brain is actually wiring this habit or not?
I mean there are peopel who may exercise for 6 months, yet they give up. They didn't make exercise a habit.
Others though wire the habit in a few weeks. They get started and never look back.
So why is one person's brain busy wiring that habit, while the other one's, even though she's been exercising for 6 months, is still resisting?
You'll learn what to do to make sure your brain is busy wiring that habit in the Exercise Bliss Habit Recipe.
Now let's move on. What happens after you workout? Do you get dressed, go to the shower, eat breakfast? How exactly does working out fit in your morning routine?
Finally, do you start with 5 minutes a day 5 days a week, or will start slower, e.g., twice a week? What are the benefits of each decision?
If 5 minutes a day can be that complicated, no wonder so many of us have trouble sticking to exercise! But the good news is there's a solution. As Steve Jobs said:
When you start looking at a problem and it seems really simple, you don't really understand the complexity of the problem. Then you get into the problem, and you see that it's really complicated, and you come up with all these convoluted solutions. That's sort of the middle, and that's where most people stop… But the really great person will keep on going and find the key, the underlying principle of the problem — and come up with an elegant, really beautiful solution that works.
That's why in Exercise Bliss we give you the Habit Recipe. Using this recipe, you'll be able to:
Identify the best days and times that work for you.
Take all the necessary steps beforehand so that you make exercising a no-brainer.
Choose a simple behavior to prompt your brain to wire the exercise habit and – btw – enjoy exercise more.
Identify your Plan B. Skipping workouts is not exactly allowed in Exercise Bliss. Hence you'll have your own back-up plan, just in case things go awry. We'd never risk skipping workouts and letting your exercise momentum go down.
The Exercise Bliss habit-building 8-week Workout Plan
No you won't have to search on the web for workouts.
No you won't have to decide what body parts to work on. You won't have to worry about keeping the right form.
No you won't have to try different techniques to see what works. From walking to running to lifting weights to TRX to yoga – what works best? I've tried more techniques than you can imagine.
It'll all be done for you. In the course of the program you'll get:
23 beginner + non-beginner workouts in HD video.
All combed together in a progressive, habit-building workout plan that gets you lean and fit WHILE helping your brain wire the habit…
AND while also providing "a pool of" workouts so that you do have the option to switch workouts if you need to.
Yes, switching workouts depending on your specific needs is not frowned upon in Exercise Bliss – it's encouraged. After all, this is about creating YOUR perfect workout plan, not about handing you a set of strict that you "have to" follow no matter what.
And yes, I won't just throw the workouts at you. I'll be giving you step-by-step instructions so that you know what videos to follows to make sure your brain is building that habit while you gradually improve your fitness level from beginner to fit!
Now let's break down exactly the workouts you'll be getting in Month 1 and in Month 2.
Month 1 Workout Plan:
Build the habit 5-Minutes a Day – 5 Days a Week
Ideally, how many times a week would you like to exercise? Three? Four? Five? In the first four of weeks of the program our focus is exactly that: Getting to our ideal weekly frequency, 5 minutes at a time!
Each week you'll be getting new 5-min bodyweight workouts. You'll be tightening your body, while building the habit of exercise – all without risking overwhelm or intimidation.
List of Month 1 workouts: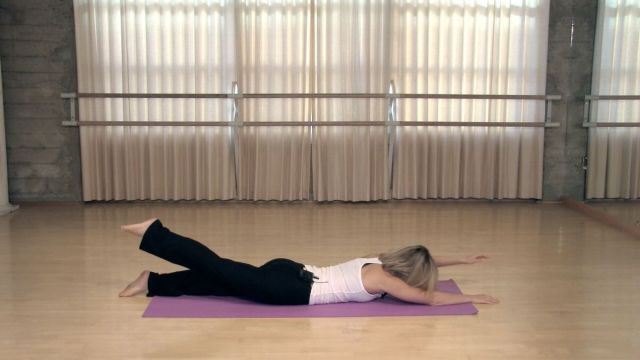 Month 2 Workout Plan:
Go from 5 daily minutes, to 10, 15, and beyond!
Now that you got your weekly frequency down, it's time to both increase the intensity and the duration.
You'll find out that once you're used to 5 minutes, going to 10, or 15 minutes is not a big deal. Plus, the workouts in this segment are no longer beginner level. Intensity goes up, and you're getting stronger, leaner, healthier, happier!
List of Month 2 workouts: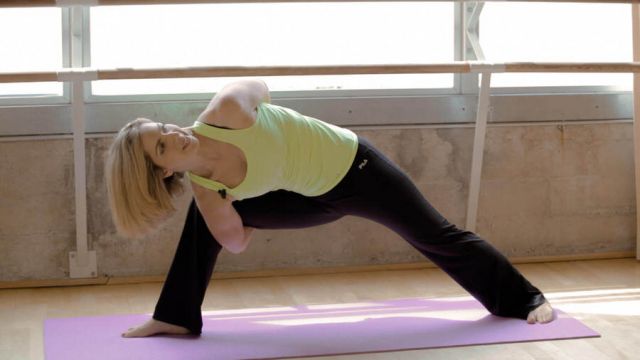 6 more POWERFUL TOOLS for best results
The 12-week Exercise Habit Journal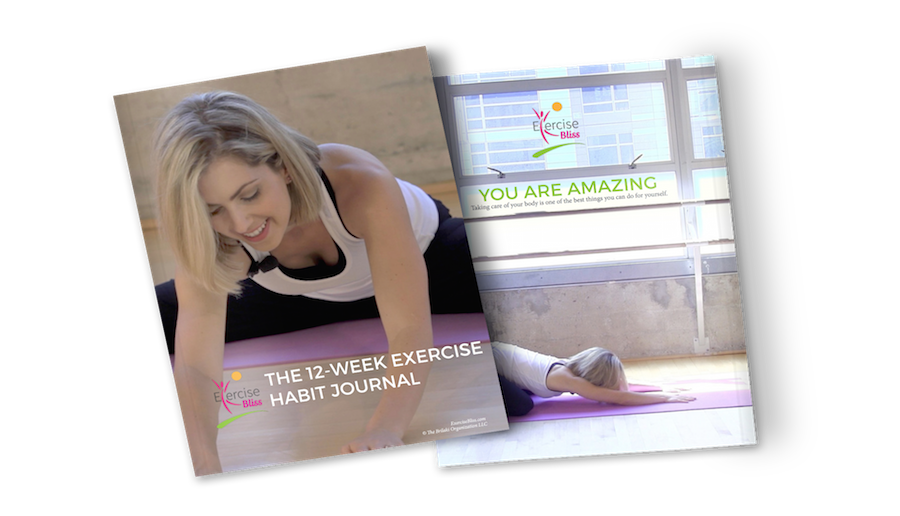 Remember, you won't simply get a list of workouts thrown at you. Let's be honest — a shortage of workouts and workout options are not the reasons you don't exercise. If you've ever bought a workout DVD or a treadmill or a gym membership, but couldn't follow through, then you know this is not about knowing what type of exercise you should do.
You'll use the Exercise Bliss Habit Journal to identify the best days and times that work for you. You'll try different ways to integrate exercise into your life, and you'll learn to identify what works for your individually vs. what doesn't.
You'll use the Journal to plan for each week, and then track what you did. Did you do what you said you'd do? If no, then why? You'll learn from your experience and make a better plan the following week.
Since Exercise Bliss lasts 8 week, why 12 is the Journal good for 12 weeks? The reason is that we want to help transition after graduation. We want you to keep exercising, and once the program is over, we by no means want to risk your success.
That's why the Journal is 4 weeks longer than the program, and that's why E-mail guidance, the 2nd tool described below, lasts for 10 weeks. It's all about a smooth transition.
The 10-week Accountability E-mails
You won't feel alone. You won't ever be unsure of what to do. Exercise Bliss e-mails will keep you on track, and make sure they keep exercise top of mind.
Once you graduate, you will keep receiving accountability e-mails for 2 more weeks. This way you'll have more time to adjust to your new life as an Exercise Bliss grad!
3 Modification Videos to adjust exercise to your own fitness level
We're all different. Some of us find ab-work easy, while other have strong legs. No matter your current fitness level, I'll be giving you modifications so that you know how to adjust the exercises to your own fitness level.
We'll deeply address plank, squat, and push-up variations.
Define your Vision and clear up resistance
Do you feel like you "should" exercise? Does this should make you want to rebel against exercise, and never do it?
So yes, on the one hand you want to exercise, but on the other hand you hate that you "have to" do it. This conflict is actively opposing your efforts to get healthy and in shape.
We'll clear this up in this HD video class.
Plus, sign up today and receive lifetime access!
Work out Anywhere
Exercise Bliss is an online program. Once you sign up, you'll receive access to the private Exercise Bliss website.
The benefit? You get to take it with you. Whether you're at a hotel, or visiting your parents, the only thing you need to do to work out is log in.
Lifetime access gets you covered – even if life gets busy!
Let's make this clear. You won't just keep access to Exercise Bliss website for a few months. It'll be yours for as long as the program is "alive" on the market.
So unless I die, or some serious change of plans happens, you'll be able to sign in and do your work out!
And just in case you were worried that life may get in the way and interrupt your progression in the program, well, worry no longer. With lifetime access, even when the 8 weeks are up and you're officially a "graduate" of the program, you'll still be able to log in and work out.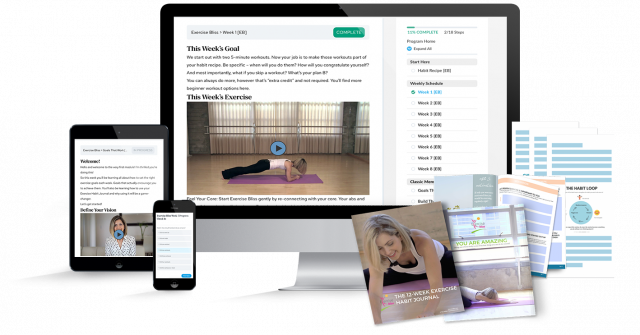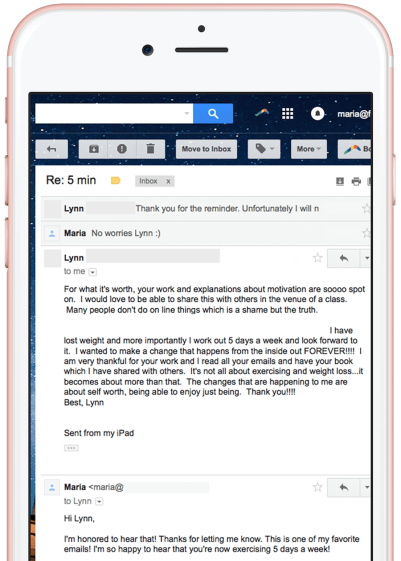 Unlimited E-mail Support
You'll be getting e-mail communication directly from me all throughout the program. Got a question? Unsure how to use the Habit Recipe or struggling with negative thoughts? Just hit "reply back" and your e-mail will be sent directly to me. I'll be glad to help you out.
---
Compare Exercise Bliss To…
Annual Gym Membership
$360-$2400
Sounds great in theory
But tends to go to waste after Month 1
Home Treadmill/Bike
$200-$7000
It's at home & always available
But tends to serve as clothes hanger after Month 1
Personal Trainer
$240-$1500/month
They keep you accountable
But how do you know you'll keep exercising should you stop working with them?
Doing Nothing
$0 now, HUGE later
Increased heart disease risk
Increased stroke risk
Increased cancer risk
Increased chance to gain weight
MISSED: Exercise helps with depression similarly to Zoloft
MISSED: Exercise improves sleep
MISSED: Exercise boosts energy
MISSED: Exercise boosts self-confidence
Trying to Stick to Exercise On Your Own
UNKNOWN – But what about time wasted?
Risk wasting money on DVDs, gym memberships, etc and still not sticking to exercise.
High-risk of guilt, and self-blame as "lazy," or "procrastinator"
High-risk of not exercising and dying younger
High-risk of getting frustrated
How many years have you spend already trying to make exercise a part of your life?
Are you willing to spend more years looking for an answer you may or may not find?
Exercise Bliss
3 installments of $59
Focus on building the habit.
No longer seeing exercise as a chore.
Exercising regularly helps with high blood pressure + diabetes management.
Regular exercise cuts heart disease risk by almost half.
People who exercise regularly are less to likely to gain the weight back.
Not to mention the energy boost you'll get from every workout session.
Join Exercise Bliss Today and Receive…
I'm offering the Exercise Bliss FULL course, which contains hours of material that'll help you make exercise part of your life. Not because someone is pressuring you to do it, but because you like it. Picture that!
Join Today and Receive…
Full Exercise Bliss course in HD video. 6 weeks worth of material in HD video including:

All 6 Modules for Classic Members Only: Includes video classes on goals, the right way to form habits, mind reframing and reprograming, exercise advice, and working with your inner critic.
Classic-level Bonuses: Secondary habits and follow-through hacks. All you need to know about these are smaller, yet mighty habits that'll help you create any other (bigger) habit! Plus, the hacks won't just help you stick to exercise, they'll also help follow-through with any habit you may be building.

The 8-Week Workout Plan: Use the Exercise Bliss Habit Recipe to insert those 5- to 16-minute strategically created workouts into your life. Start from easier workouts and build up your fitness level from there.
The 12-Week Exercise Habits Journal. Set your weekly goals, track what works and what doesn't, and document your transformation step-by-step.
10-Week E-mail Accountability. Exercise Bliss e-mails keep you on track. We make sure exercise remains top-of-mind so that the noise of daily life doesn't get in your way.
Lifetime access and updates. You'll have access to the Exercise Bliss membership website for long after the 8 weeks are over. All updates – new HD videos, workouts, or worksheets added – will be free and available right away to you.
Tools: Define your vision, get modifications. Our modification videos help you adjust the workout plan to your specific needs, while the Vision clas will help you clear out the "should" from exercise.
Just 3 Monthly Payments of $59
Or you can pay in full with a single payment of $149 (and save $28 compared to the 3-month payment plan)
P.S.1 To be clear, Exercise Bliss is not a "pay in part" program where you can pay only for access to certain material or modules and not others. Unless you ask for a refund during the guarantee period, you'll be officially enrolled in the program and responsible for completing all payments should you choose a payment plan rather than paying in full.
P.S.2 Try it risk-free with our no questions asked 14-day guarantee period! Should you change your mind withing 14 days, just email us and you'll be due for an 100% refund of your purchase.
Where will you be Two, Six, or Twelve Months later?
Will you lose weight?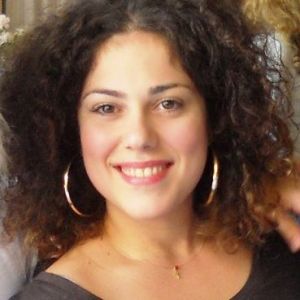 I lost over 22 pounds + still exercising!
Before, I was not moving my body at all. Exercise Bliss taught me the value of small steps. It's ok to only do something "ridiculously small"! Before I knew it, I'd do something small 7 days a week (even though you recommended only 5 days a week).

It's been more than 3 months since I graduated and I'm still exercising consistently. I started going to the gym right after the program ended, and I still go 4 times a week.

As a result, I've lost over 22 pounds. I could not be happier!

– Loukia G., Engineer, Exercise Bliss Graduate
Will you feel more energy?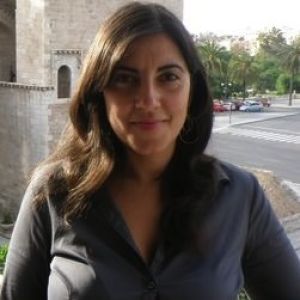 I'm not tired, I'm not bored, and I want more!
Knowing that you can exercise, and not just exercise, but to actually enjoy it? That increases your self-confidence A LOT. I'm happier and feel more energized.

It's still surprising to me, but I'm thinking that I actually can keep exercising and enjoying it forever. I'm not tired, I'm not bored, and I want more!

– Aida B., Business Coach, Exercise Bliss Graduate
Will you inspire your kids to live healthy too?

My 10-year old (overweight) daughter has started exercising too!
I think EB can help people in many different areas of their lives – any project that requires to form habits, to have a step by step approach. My daughter is 10 and very sedentary. She is also a bit overweight. Thanks to EB, I developed a practice for her when she is at the computer doing homework to, every ten minutes, go down the stairs and up once, then continue with homework. That helps her have better circulation, and be more active.

Luisa L., Entrepreneur, Exercise Bliss Graduate
Seriously if my 65 year old mom can make it a habit
then so can you!
My mom doing FULL push-ups for the 1st time at 65!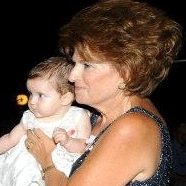 I look 10 years younger!
By exercising daily I'm stronger and have a lot more energy. Before Exercise Bliss I used to get tired after a few hours with my grandchildren. Now I can easily keep up with them (ages 4 & 2).

I also look 10 years younger. No-one can guess I'm 65. They all think I'm in my 50s. It's a great self-confidence boost for any woman of my age to know that you look younger.

– Eva R., Retired, Exercise Bliss Graduate
Frequently Asked Questions
Is there a guarantee?
Yes! There's a 14-day no questions asked 100% money-back guarantee! If for any reason you realize this is not the right program for you, just email us within 14 days of purchase and we'll refund you immediately. No refunds are allowed after the guarantee period.
Can I afford it?
Yes! Think about it: If you were to divide the EB price by 365 and calculate how much you'd be investing every day to your health you'd get $0.41! That doesn't sound like that much right? Don't know if you're a coffee drinker but that's definitely less than most cups of coffee.
Now if you have credit card debt I see why this investment may not make sense for you right now. But if not, then at $0.41 per day I honestly don't see an affordability issue.
The value becomes even more prominent when you factor the tremendous benefits of exercise (exercise is one of the most important things you can do not just to be in shape but to decrease your risk of many diseases (some types of cancer, diabetes, etc) and even live longer). You can't get the full benefits of exercise if you don't do it consistently (hence why the habit is so important).
Payment plans help make the investment to your health more affordable by spreading out the installments. Right now there's a 3-month option. Want to create a custom payment plan? Contact us and we'll work with you.
What if I go on vacation/business trip during the program?
The fact that you'll be traveling while you're going through the program is a good thing. Think about it: You'll travel several times in the future. This is not an one-time thing. If you're gonna build a habit and exercise for the rest of your life (we're talking decades here!) you'll need a plan for those weeks when you're out of town. And the best time to formulate that plan is when you're actually going through EB!!
I'm loving the fact that you're thinking ahead and are already in the process of foreseeing potential obstacles. That's actually something we do in Exercise Bliss each and every week! It's part of the program!
I have a few potential solutions already in mind, but it's part of the EB method to help students scratch their own itch first before I jump in. So I say, come join the program, and if you keep thinking you won't have a good solution for the out of town issue, shoot me an e-mail and I'll help. E-mail support is also part of the program 🙂