Understand WHAT makes your brain wire the habit of exercise & battle against negative thinking that wants to squash your new habit with Exercise Bliss Classic
Your inner critic will try to fight your nascent exercise habit. Do not let her stop you! Upgrade now to get EXCLUSIVE access to video content that shows you what makes your brain tick to wire the exercise habit and how to respond to your inner critic.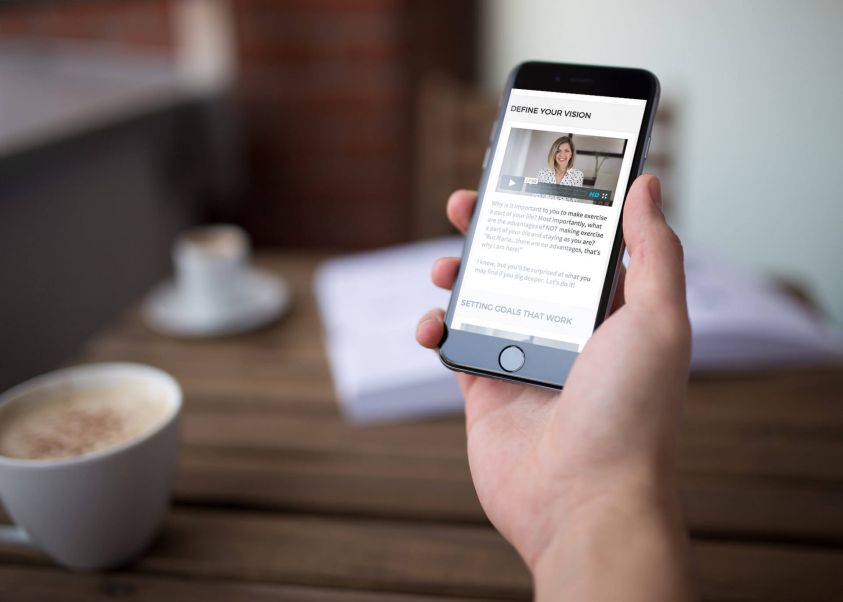 Don't let your inner critic crash your dreams.
For those of you who want a deep understanding of how our brain codes habits and how to reframe our thinking so that we like exercise I know you'll dig the Classic level material.
You see life is amazing at getting in our way. Just when you think you got the hang of exercise, you skip a workout. And then your mind starts playing tricks:
"What if I'm not cut out for this?"
"I didn't believe I'd stick to it anyway"
"Nothing can help me, I'll stay as I am for the rest of my life!"
Your mind is great at trashing your dreams. That's where the Classic level comes to the rescue.
Week by week you'll be getting new video material on the ins and outs of habits, goals, inner critic interventions and much more.
Here's a breakdown of what you'll be getting in the 6 Classic Members Modules:
Module #1: Set Goals that work.
Learn how to set the right exercise goals each week – goals that actually encourage you to achieve them.
Why setting progressive goals is your best bet to get to your Vision.
Should you aim for 10 minutes of exercise or 40? The difference between big and small goals and why it matters.
How to use the Exercise Habit Journal to set weekly goals and track your progress.
Why the end-of-the-week review is so important in creating an exercise routine that fits your needs and preferences perfectly.
Module #2: Build the habit.
In this module you'll find all you need to know about how to create habits that stick – what makes your brain wire them, what stops your brain from wiring them, and how to accelerate the habit-making process.
The big benefit of making exercise a habit is that once exercise achieves habit-status exercise it becomes something that you just do, without really thinking about it. Think about brushing your teeth. You usually do it without even thinking about it, it's just part of your routine. Even if you feel extremely sleepy, you're still highly likely to find yourself brushing your teeth.
That's why the people who for years have been exercising regularly, exercise religiously. Exercise has become 2nd nature. For them exercise is as simple as it is for you to put your seatbelt on as soon as you get in the car.
Why whipping yourself into shape interferes with the habit-making process.
How to create habits (and why joy is so important.)
What triggers are and how to use them to your advantage.
What happens when rewards conflict, e.g., you want to stay on the couch but also want to exercise and live healthy.
How to accelerate the habit-making process.
Module #3: Find what works.
This week we'll be addressing a common misconception that holds us back. I don't know why but we make this mistake all the time.
We think we're supposed to do something and get it right on the first try. I don't know why we have these false expectations. What makes matters even worse is that when we try something and things don't go according to our false expectations, we then blame ourselves for it.
Well in Exercise Bliss we know better! Let me get this straight – I don't expect you to find the perfect way to apply the Exercise Bliss Habit Recipe, the perfect exercise and frequency of exercise in your first month. No, what I expect you to do is to experiment, try different things, and gradually discover what works, as well as what doesn't.
So this week is all about learning how to experiment. This is supposed to be a fun process where you'll learn all sort of different things about yourself.
Skipped a workout? Here's how to diagnose what happened and discover what got in your way.
How to use this information to set better weekly goals. And…
So you've been exercising. But are you really progressing? How can you tell? Is it just about strength and what you see on the scale? In what other ways can you measure your progress?
You'll also learn how to evaluate whether you're really progressing, how to pick good anchors for your new habit, and how to increase the amount of exercise you do! Really how do you go from 5 minutes to 15 minutes, 30 or beyond?
Introducing the Stacking Method, or else how to go from 5 min of exercise to 10, 15, 30 and beyond.
So you've been following through with your workouts. How do you know you're really progressing?
Module #4: Reprogram your mind.
Say you have the absolutely perfect workout plan in your hands. If you don't do it, then the value of this plan is zero. You gain nothing from it.
And while having the wrong expectations is a major reason behind the fact that we don't stick to exercise, negative feelings about exercise, as well as not knowing how to cope when things don't go as planned (e.g., you skipped a workout and now you're blaming yourself) are what push people to quit and give up.
This week you won't just learn the 3 techniques to reframe your thinking so that you become like the people who look forward to exercise, you'll also learn what to do on those bad days – when you feel like doing nothing and really don't want to get off the couch.
How to change your natural reaction to exercise or to things not going as planned.
What beliefs are and why they matter. How they keep your momentum up.
The most common ways we distort the truth and lie to ourselves.
The 3 techniques to reframe your thinking so that you become like the people who look forward to exercise.
Module #5: Exercise Q&A.
If you're not sure what the most effective way to exercise is, wondering whether you can lose body fat from a specific body part, or not sure whether you should be exercising 15, 30, or 60 minutes, then this week's material is for you.
What should you aim for? 10 min? 30 min? 60 min? How does this change depending on whether I want body definition or just to live healthy?
How can I get the fastest results?
Do I need to get sore to know that the workout is "working?"
Can I do the same workout on two consecutive days?
Can I lose belly fat only? What about thigh fat?
What if I feel stronger, and maybe seem slimmer, but the scale has stays the same? Why is that?
I'm spending hours on the treadmill but get no results. Why is that?
Module #6: Work with your inner critic.
By now you've learned all about creating habits, using the scientific method to review your progress and set better goals. You've been using your Habit Journal to track what you're doing and stay focused. You've learned the techniques to reframe your thinking so that you don't get in your own way.
So what is left, you may be wondering. Well, I'll tell you what. This week's material is perfect for the people who have double standards, have a "dictator" inner critic, and are too hard on themselves.
When person A completes a task they say "Good job!" and mean it! When they do the same task, they're not as impressed. Similarly when person A screws up they're not too strict. When they screw up they tear themselves apart.
These people often recognize they're too hard on themselves, but they see this as high standards. So yes they see they have double standards but the rationalization is amazing. Who wants to have lower standards?
The problem is that such mentality will make you more likely to get disappointed at obstacles that may come your way (and they will come) and hence give up on exercise.
So this week you'll learn how to both keep your high standards and get rid of double standards. We'll also practice the Mind Reprogramming techbiques we've previously learned to get better at using them. After all, what good is it to learn a technique but not know how to put it in good use?
Why employing double-standards minimizes your chances of sticking to exercise while minimizing your chances of reaching your potential in mutliple sectors of your life.
How to deal with guilt for devoting time to yourself (and yes, that includes exercise).
How to review whether the way you see yourself is actually compatible with reality.