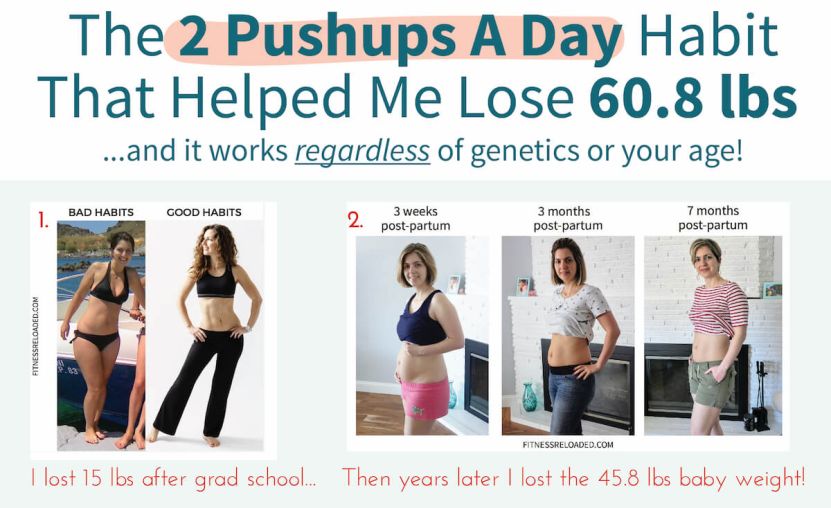 , , , left till the next Habit Blueprint class starts on Monday
Dear Friend,
If you want to be toned and lose weight without forcing yourself to exercise, "good genetics," or wasting ridiculous amounts of time in the gym…regardless of your age… then the "Habit Formula" be the most important course you'd ever take.
And today, I'm offering it to you with $216 worth of bonuses!
But First, Read This Disclaimer:
Yes, I used this fitness Habit Formula to lose 15 lbs right after grad school. It's because of this formula that I lost weight without suffering, and it's because of this formula that years later I'd lose the 45.8 lbs baby weight gain fast. But please understand my results are not typical. I'm not implying you'll duplicate them.
The average person who buys any "how to" information gets little to no results. While the formula works regardless of your age, your results will vary and depend on many factors …including but not limited to your background, experience, and focus.
With that said … let me jump right in…
The Habit Blueprint is a fundamentally different online course
First of all, there's no fluff or filler in this course – just the exact habit recipe that'll make exercising daily a breeze and sexy, lean muscle almost inevitable – even with little motivation or willpower.
And It's About MORE Than Just Getting Toned – It's About Living A Healthy Life, FOREVER!
The point here is in the "forever" part. Exercising for a month or two is great, but it's exercising for the rest of your life that'll bring disproportionate benefits – benefits that go beyond having a rocking, lean body and extend to more energy, strength, the peace of mind that you're more likely to skip a number of chronic diseases as you get older.
Likewise, what's the bottom-line value in getting toned and losing the weight if you're gonna stop exercising and take it back? We don't want that!!!
And that's why you need to master the habit formula. So like I said, there's more to this formula than "just" weight loss. So get the Habit Formula course and learn…
The exact "habit recipe" that makes creating a daily exercise ritual a breeze and building lean, sexy muscle inevitable.
Here are just a few of the things you're going to learn (and do) in the Habit Formula online course:
How to get the toned body you desire without ever feeling restricted or forced to exercise to "burn" calories.
An all-in-one habit design system that'll make you the person who loves to work out every day, helping you get those lean, sexy curves in all the right places…starting not with 60, 30, or even 15 min of exercise but with only 2 reps!
How to develop the consistency it takes to build the body of your dreams, actually enjoy the process, and not even feel like you need "discipline" to keep it up.
The 3 bodyweight, do-anywhere exercises that every fitness beginner should start with.
How to identify the best time of the day that'll make getting your daily exercise a ritual you'll be looking forward to – even if your schedule is variable.
Start a counterintuitive fitness routine – one that's ridiculously short yet strangely powerful in getting your brain HOOKED to exercise. Don't be surprised when months later you're toned and fit and loving exercise for the very first time in your life and after years of inability to stick to it…
And a lot more!
Imagine…just a week from today…with the exact exercise habit formula in your hands, knowing exactly what exercise to do and when to do it, and naturally making it happen day in day out – no debating with yourself, just doing it!
And while your habit formula may seem conventionally unimpressive at first… Imagine a few months later enjoying the added benefits of high energy levels, no aches and pains, better spirits, knowing that you're getting healthier every day, seeing that muscle definition happening, and naturally wanting to get off the couch and "just do it"!
You'll no longer have to max out with different workouts only to find yourself give up within a month or two. You'll know the real secret to consistency.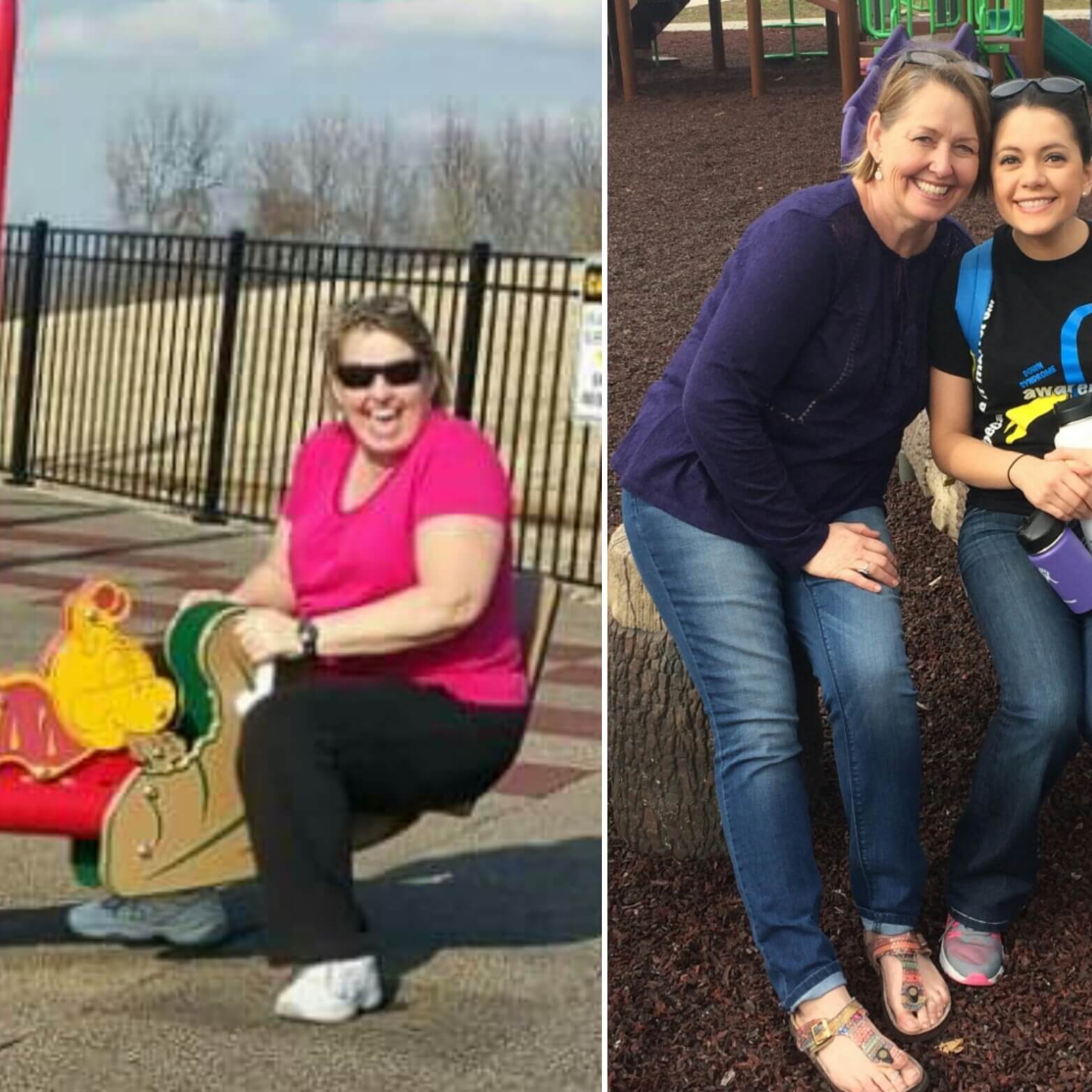 "I'm so freaking excited! I went from sitting and badgering myself to walking and working out for 10 minutes every day! And I'm loving it!"
– Cathy, soon after she started with Habit Formula (she would go on and lose 20 pounds after starting with the Habit Formula at age 57)
You'll Know How To Get Toned Permanently & Without Dreading Your Workouts!
You'll do it without feeling any pressure, you won't have to struggle with time, and you won't even have to talk yourself into doing "the right" things – you'll do them automatically! That's because of the way the system works.
When you make a behavior a habit, then you get to do it without thinking about it – like when you get in the car and just mindlessly put your seatbelt on? Imagine the same thing happening with weight loss habits.
Imagine waking up and craving exercise! CRAVING! Instead of, e.g., waking up and having to drag your bottom to do your exercise, imagine really wanting to do it!
And you don't need to wait for course materials to arrive, you'll get instant access!
As soon as you place your order, you'll get an automated email with your username and password to get instance access to the private Habit Formula members area.
You can access the Habit Formula from anywhere, immediately right after you buy!
$216 worth of bonuses

– Yours Free with The Habit Formula!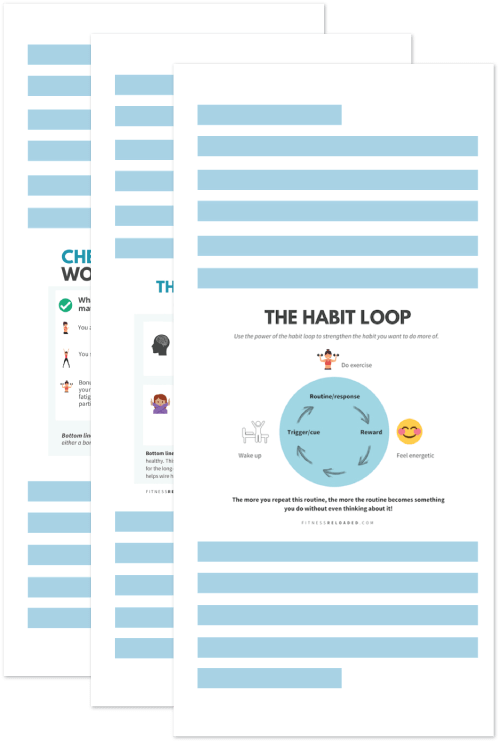 Bonus #1: Starts Monday: You're Also Getting
The 7-day Accountability Email Coaching

(A $59 Value) – FREE!

Let's be honest here. Most people who buy any "how-to" information will get zero results. I'm not saying this to be negative, I'm saying it because this is just the truth.

One main reason behind that is that the people who take action and read through the information, may have "a-ha" moments but then they won't go ahead and apply what they learned – and even if they do they may only apply 10% of the material.

It's one thing to learn something, have "a-ha" moments and then do nothing, and then it's totally another to actually practice that thing that you just learned – and practice it right.

So instead of showing you the ropes of the Habit Formula and then sending you on your way, *hoping* that you won't get distracted by life and actually practice the formula, and then *hoping* that should you practice it you'll be able to apply it just right, we'll guide you step-by-step in a full week immersion. Specifically you're gonna get email coaching about:
How to really tell whether your workout was effective enough.
When it's ok to be "lazy," and how to get more results with exercise without "trying harder" or "boosting your motivation."
How other people before you applied the Habit Formula to stop dreading exercise, lose weight, and get toned, healthy and fit! What results should you really expect if you keep up with it?
Starting Monday next week and all the way to Friday, you'll also get daily accountability: Email prompts will urge you to actually practice your Habit Formula and not let life's distractions keep you away from the body and life of your dreams.
Bonus #2: You're Also Getting
The "no excuses" Mindset Reset

video training & workbook (A $49 Value) – FREE!

This bonus video training smashes the excuses that have been holding your dream body hostage for months, years, or even decades. Through this training we'll address:
The 5 biggest exercise myths & mistakes that keep women weak, unfit, and out of shape.
How to ditch the "Suffering Mindset", stop using exercise as punishment for what you ate, and get brutally honest with yourself about the real reasons that have been stopping you from getting fit.
How to to break away from toxic thoughts that aim to keep the status quo of being unfit and out of shape intact.
20+ page downloadable workbook will walk you through and forever BUST the most common excuses that keep you weak, unfit, and out of shape.
A $49 value, yours free today!

Bonus #3: You're Also Getting
21 Exercise & Workout Ideas

in HD Video (A $29 Value) – FREE!

A big reason why the Habit Formula is so powerful is that it makes you naturally WANT to do more exercise, right after you do what the formula tells you to do.

Imagine that! Finishing your workout and then wanting to do more exercise!

Enter what I call the "Extra Credit." In the Extra Credit section that's included with the Habit Formula you'll find 21 exercise and workout ideas that you can do just as you feel like you want to keep exercising and you don't want to stop!
Bonus #4: You're Also Getting
Lifetime Access

(A $79 Value) – FREE!

As soon as you purchase you'll get an email with your account username and password that gives you access to the Habit Formula material. Getting the habit formula is not a subscription, where you get certain privileges as long as you keep it up with monthly or annual payments.

Instead, you'll complete your payment in the next few days and then get lifetime access, i.e., you'll keep access to the Habit Formula members area for as long as the product is supported by Fitness Reloaded LLC. So unless something really bad happens and Fitness Reloaded goes bankrupt or something, it's hopefully gonna be a loooong time.
Get Access To The Habit Blueprint Online Course For
Just $29.97!
If for any reason you aren't delighted, let us know at support@fitnessreloaded.com within the next 14 days and we'll initiate a full refund! To clarify, this is not a subscription, there will be no further payments after the $29.97 total is paid, and you'll keep your lifetime access to the Habit Formula Members' Area (and the bonuses!)
Don't delay: Join by Sunday
at the latest to get into next Monday's 7-day accountability coaching class.
14-day Money Back Guarantee
If for whatever reason you're not happy with our material, please email support@fitnessreloaded.com within 14 days after purchase with your order ID and we'll refund every penny you paid back to you – we'll even eat up the credit card fees