This One Habit Will Lose You More Weight Than Running 15 Miles A Week — And It Takes Less Than 10 Min A Day!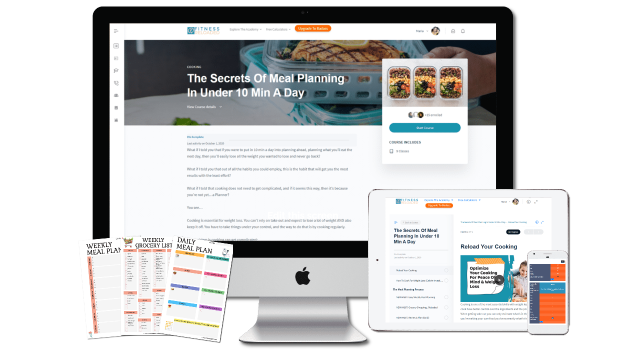 Get our Meal Planning in under 10 minutes a day system now, and lose more weight than you ever thought possible!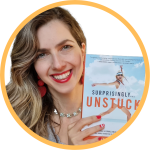 Dear Friend,
If you want to lose weight and keep it off, without starving yourself, banning foods, hours of cardio, or wasting money on supplements, then this will be the most important letter you ever read!
Because today I want to talk to you about the ONE habit that will lose you THE MOST weight. Mindless eating, cravings, exercise, eating out – these are all habit to address but these are complicated to change and also bring slow results!
You probably know me already if you're reading this. I'm Maria Brilaki, the author of the best-selling "Surprisingly…Unstuck: The Power of Small Healthy Habits In A World Addicted To Instant Results" with over 60,000 people getting it, and the founder of the Fitness Reloaded Habits Academy.
I've coached hundreds of people over the year to lose weight or change their habits.
Yes, you could say I know a thing or two about habits!
Here's the deal:
You DON'T need to starve yourself with very-low-calorie diets to lose fat and keep it off.
You DON'T need to spend hundreds of dollars per month on worthless supplements.
You DON'T need to grind out hours and hours of boring cardio to lose weight.
You DON'T need to obsess over "eating clean" to lose weight quickly, and you DON'T need to abstain from "cheat" foods while getting "beach ready."
All you need to do is to start planning ahead!
It is no secret that writing down your goals and reading them daily helps you bring disproportionate results in life. Just check out these results directly from Harvard!

According to a Harvard Research Study, that went over the goals of students who were about to graduate:

— 84% of the entire class had set no goals at all

— 13% of the class had set written goals but had no concrete plans

— 3% of the class had both written goals and concrete plans

The results?

10 years later, the 13% of the class that had set written goals but had not created plans, were making twice as much money as the 84% of the class that had set no goals at all.

However, the 3% of the class that had both written goals and a plan, were making ten times as much as the rest of the 97% of the class.
This is exactly what we'll be doing in this course. You'll be writing down your goal and reinforcing it daily by making a plan!
No stubborn fat can resist the power of planning!
So today I invite you to put it to the test. Takes this course. Study it. Apply it. Then see for yourself how the pounds melt when you're focused day in, day out!
No more asking what's for dinner (then ordering take out)
No more craving a delicious dish but lacking the ingredients (and eating a frozen meal)
No more planning for the week only to get distracted by Tuesday and then losing no weight.
I'm walking you step-by-step over our Meal Planning Method so that no belly or thigh fat can stay unconquered!
Sign Up Today And Get The "Meal Planning In Under 10 Min A Day" Online Course & Materials…
Learn the Fat Loss Secret Behind Every Weight Loss Story Success
Not understanding this secret could lead you to spinning your wheels and struggling with rebound weight.
How To Meal Plan For The Week Without Getting Overwhelmed
The good news: You don't need to plan every breakfast, lunch, dinner, and snack for the whole by Sunday! There's a better way.
The Top Foods To Include In Your Grocery Shopping List To Lose Weight
At the Fitness Reloaded Habits Academy hunger is not allowed. Learn to grocery shop and get stock your pantry so you eat more slimming foods, and lose more weight!
How To Stay Focused & Burn Fat Every Day In Just 10 Min A Day
Planning ahead on a daily basis and then reviewing your progress will make you win, big time! This simple daily practice will lose you a lot of weight, so if you're hesitating at the thought of getting slim, stay away.
Your Very Own Online Habit Diary & Progress Tracker Kit.
Custom-made for you so that you add your new habits, update your weight loss progress, and check the habits off as you do them. (a real human will prep this for you.
Get The Meal Planning In Under 10 Minutes Course And Lose More Weight Than You Would Running 15 Miles A Week!
14-day money-back guarantee: If you are not 100% happy with it, then cancel your account with a click of a button, and send us an email at support@fitnessreloaded.com to give you a refund!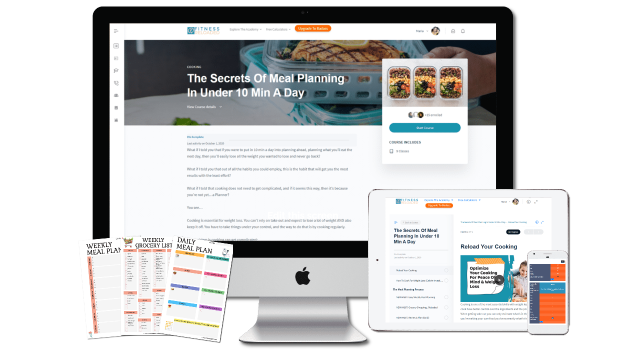 Just Imagine Where You'll Be After 3 or 6 Months of FOCUS… "ORDER NOW" Today!
14-Day Money Back Guarantee
You're either thrilled with your course or you don't pay. If you're not happy, simply send us an email to request a refund at support@fitnessreloade.com in the next 14 days. No questions asked!