Fitness Reloaded turns 1 year old! Win a FREE FitDesk and burn calories when working…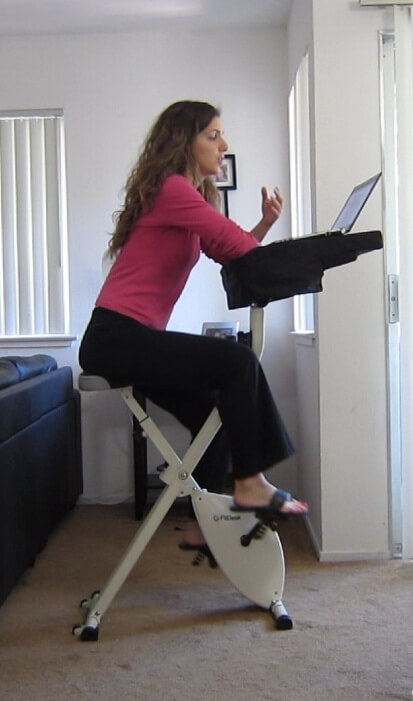 Want to add 30-60 min of exercise a day without making any sacrifices at all?
Without having to make time or find motivation to exercise?
You are at the right place!
I achieved that 3 weeks ago with the help of a smart, innovative exercise bike, the FitDesk. It has indeed helped me add 30- 60 min of exercise every day, without making any sacrifices at all! Why?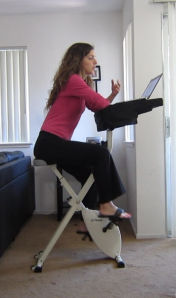 Because the FitDesk is designed to help you do your laptop work while you cycle, while you are burning calories, while you create strong quadriceps (the muscles in the front of your leg), and while you increase your life expectancy…
And the best part is that it works. Even though I was concerned at first, thinking that I wouldn't be able to focus on my work while I am on a bike…I was delighted to be proven wrong. I have been using it for more than 3 weeks already and am on it almost daily! It is so comfy I just get on it without thinking about it. I don't have to get motivated to do it. It's just easy. Here is my FitDesk video review. Here are multiple amazon reviews.
I found the Fitdesk so amazing that I had to share it with you.
Since Fitness Reloaded turns 1 this month (first post was published on July 20 2011) I called the company to ask for a FREE bike for you, and they agreed!
Follow the steps in the box below to participate in the Free Fitdesk giveaway:
What to do to WIN a FREE FitDek, lose pounds, and add years to your life
To participate you need to submit a written entry in the above box telling me about your health and fitness goals. You need to answer the question:
What does the next health and fitness level look like for you and what's your biggest challenge in getting there?
You will also need to confirm you live in the USA or Canada to participate and unlock the bonus points options (note that people from Hawaii, Alaska, and Canada may have to pay part of the shipping cost, but everyone else gets both the FitDesk and its shipping for free). Not in the USA or Canada? Read below 'cause I am preparing some juicy stuff for you.
 BONUS Social Media points…
Wanna really boost your chances of winning?
Like FitnessReloaded and the Fitdesk on Facebook,
Follow one or both of us on Twitter,
Share this giveaway on Facebook, or
Share it on Twitter…(you can do this multiple times for multiple points!)
 BONUS Insiders Points…
Do you believe that small healthy steps today have the potential to pay DISPROPORTIONATE dividends in the future?
Do you believe that trying smarter is better than harder?
If you answered yes to both questions then you are a good fit for the Insiders List. The Insiders are a group of smart people that want to live a long and vital life! Joining this list is free. Fill-in your name and e-mail in the form on your top right or below a
Are you already on the Insiders List? Contact me and tell me that you have participated in the free fitdesk giveaway.
This contest is open to people who live in the USA or Canada only. Not from the USA or Canada? Read below.
I wish this contest was worldwide but the FitDesk only ships to North America at the time being. However, if you come from another place of the world, I will have a surprise for you… Just sign-up for the Insiders List. Once you confirm your subscription to the Insiders List, I will send you a welcome e-mail. E-mail me back with "Happy Birthday Fitness Reloaded! Best wishes from …[your country]…"
In the next few weeks you will get some juicy stuff from me…
Ready? Get started…