Healthy Baked Oatmeal Recipe (High-Fiber)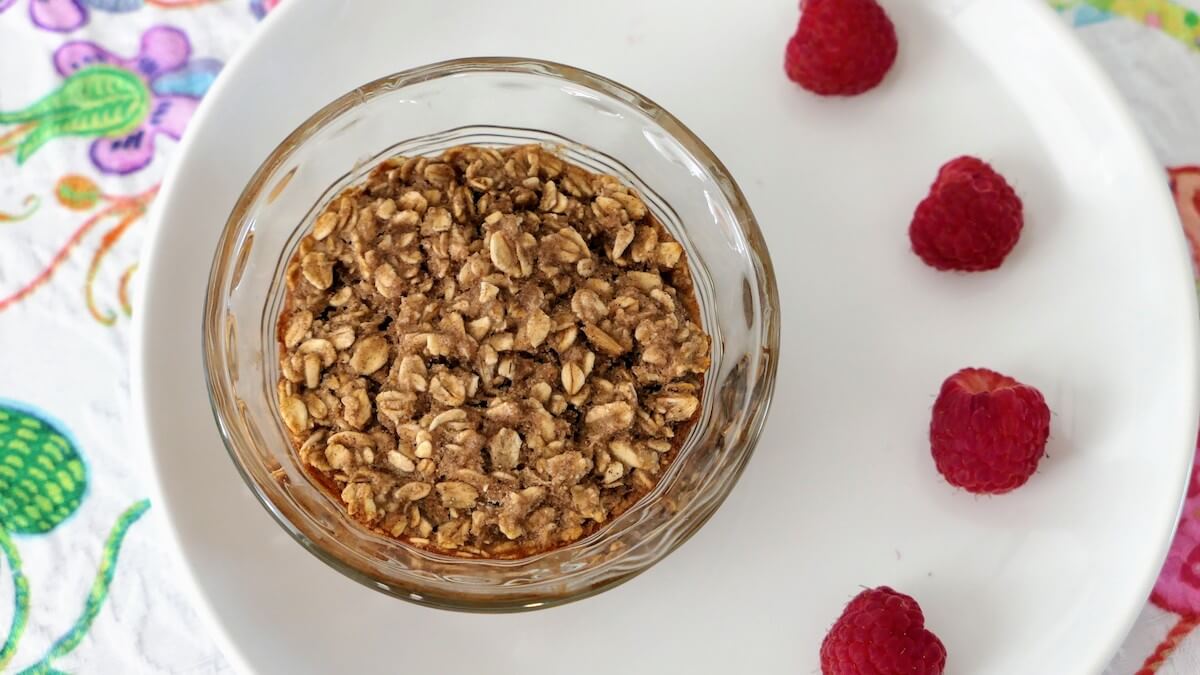 I was on Instagram the other day and bam, my eyes fell on this healthy baked oatmeal recipe from Katherine, the Nutrition Wonk. High fiber and not-too-shabby protein? With cinnamon? And baked which means the whole house will smell delicious? What am I waiting for?
If you don't know Katherine, she's a science-based dietitian who I deeply appreciate, esp. after reading her white paper clearing up frequent lies that are being promoted about the Mediterranean Diet.
I recommend her Twitter for leading edge thoughts on the latest about nutrition and nutrition science as well as her Instagram for recipes!
(I swear, Katherine is not paying me to promote her here! Haha.)
Ok, so let's get back to the healthy baked oatmeal recipe. I did not make exactly what Katherine did. I altered the recipe to match the ingredients that I had available. Specifically:
I didn't have applesauce so I replaced with additional (skim) milk.
I used 1 cup instead of 1.5 cup of oats.
I added an additional tablespoon of coconut flour. Did you know that 2 tablespoons of coconut flour had 5 g of fiber? This is amazing considering the small quantity! To compare, one kiwi has just 2 g. 1 slice of whole wheat bread has 3 g. Yup, 5 g of fiber is a big deal.
This healthy baked oatmeal recipe is an excellent choice for breakfast. You can make them on a Saturday morning and eat with the family or you can make them part of your meal prep Sunday, and then take one every day with you at work.
Let's move on now to reviewing the recipe, and then please scroll to the bottom of this article because I want to explain to you why the high fiber with not-too-shabby protein combo of this healthy baked oatmeal recipe is a killer.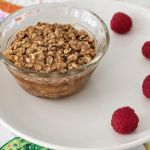 Print
Healthy Baked Oatmeal (High-Fiber, High-Protein)
Calories

239

Fat

5 g

Saturates

2 g

Protein

8 g

Carbs

46 g

Sugars

14 g

Salt

171 mg

Fibre

13 g
Ingredients
1 cup rolled oats
1 cup skim milk
3 tbsp coconut flour
2 tbsp sugar
1.5 tsp cinnamon
1/4 tsp baking soda
a pinch of salt
Method
Set oven to 350 F.
Combine all ingredients together in a big bowl and mix well.
Pour into 3 different muffin bowls and place in the oven.
Bake for 28 minutes.
Remove from oven. Allow oatmeal to cool for 10 minutes before serving.
Why high-fiber combined with protein is a big deal.
Now that you've reviewed the recipe, did you notice that each one of those oatmeal servings comes with 8 g of protein? That's not too shabby at all. It's like drinking one cup of milk.
Did you know that protein is the most satiating of all macronutrients (i.e., comparing protein to carbohydrate to fat, protein beats the other two in how full you feel after consuming it)? So those 8 g will help hold you up for longer.
Add to this that fiber has a similar effect. Despite giving you zero calories, it fills you up. (It's also heart healthy and perfect for people with constipation.)
Add protein and fiber together and you get a powerfood (just making this word up.)
So there you go, a healthy baked oatmeal recipe for your daily or weekend breakfast or snack. Are you going to make this? Are you already making a similar variation? Leave a comment and let me know.
Bon appetit!