The Best Healthy Holiday Recipe For The Christmas Season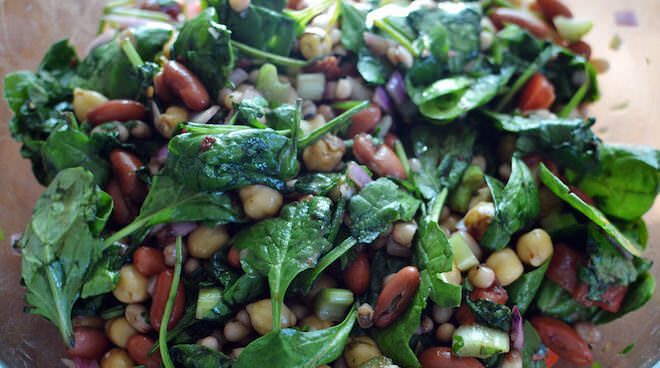 [Maria's Note: I'm excited to introduce to you Nagina Sethi today, a driven management consultant from NY who recently lost 40 pounds after having two kids. She's sharing one of her best healthy holiday recipes for Christmas. The best part? It's healthy and you don't even need to cook it! That's how easy it is! Just in time, right?]
I love the holidays, but the chocolate and Christmas cookies love me more.
Last year, I had a huge Thanksgiving meal, a generous Christmas Eve night, and an even bigger New Year's Eve brunch. And a lot of chocolates, indulgent dinners and warm buttery desserts and fried snacks in between.
The food tasted great going down – but very shortly afterward, I would feel lethargic, bloated and heavy. I wouldn't have enough energy to continue talking with others – instead I would look for the closest seat to rest. If I was wearing pants or a fitted dress, I would soon feel uncomfortable as my stomach pressed up against my clothing.
The next morning I would wake up filled with guilt. My body and mind didn't enjoy the feeling after I ate unhealthy. I knew I had to change something to feel positive about myself throughout the holidays.
I wanted to feel free and enjoy myself – and I felt that meant that I had to drink cider and hot chocolates, indulge in sweets and eat large helpings.
It's important to us to eat healthy and have energy – but we also want to feel the joy that comes with the holidays. We want to have fun and not deprive ourselves. 
Is it possible to do both enjoy the holidays and NOT deprive ourselves?
I recently lost 40 pounds while working in a demanding career as a management consultant in NY, and after 2 kids. It's very possible to lose weight while being driven, busy, and enjoying life. I am always full, enjoy what I eat, AND I have double the energy than before.
During meals, I try a little of most things, but I load my plate with more healthy, feel-good foods. After trying many combinations, I now know which foods will give me more energy, and which ones will soak it up from me.
Today I'm sharing my favorite tip + recipe to stay healthy and feel lighter for the holidays: Bring a dish that's tasty and healthy to holiday dinners or parties (if it's at someone's home and/or it's ok to bring a dish). By doing this, you will know you have at least one go-to option that will balance out the indulgences you will find there.
One of the healthy holidays recipes for Christmas I have to recommend today is my delicious and super easy "No Cook 3-bean Salad" to feel great about yourself during the holidays – it's below for you to try! It's quick to make, you can put it together ahead of time, and it is a crowd pleaser. You may have to stop yourself from eating most of it before you take it to your event!
Everyone loves this dish! You WILL receive compliments for this delicious and filling addition!
Free Gift With more recipes
I also have a special gift for Maria's readers. I've put together a Healthy Holiday Recipe e-book sharing 5 of my delicious and easy healthy holiday recipes for Christmas!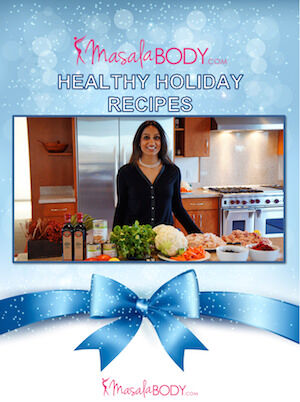 I spent over 3 years developing and perfecting my recipes, and they have been tested by dozens of people. Each recipe:
Keeps your immunity strong
Gives you more energy
Supports you to lose weight
They're also all extremely delicious!
The 5 healthy holiday recipes for the Christmas I share in this ebook are my secrets to getting through the holidays feeling and looking light and energetic.
You can get your free copy of Health Holiday Recipes here only for a limited time.
Enjoy my go-to holiday party recipe!
Healthy Holiday Recipes For Christmas:
No Cook 3-Bean Salad
My No Cook 3-bean salad is an excellent dish to have as a snack, side or to pack and take to work. This is my go-to holiday party contribution and everyone loves it!
Prep Time: 15 minutes
Cooking Time: 0 minutes
Makes 4-6 servings
Ingredients
1 can garbanzo beans, rinsed
1 can kidney beans, rinsed
1 can cannellini beans, rinsed
1 whole tomato, coarsely chopped
2 stalks celery, chopped
½ red onion, chopped
½ teaspoon red chili powder (optional, only if you prefer heat)
2 tablespoons chopped cilantro
2 cups baby spinach leaves
Dressing
2 cloves minced garlic
½ cup balsamic vinegar
2 teaspoons extra-virgin olive oil
¼ teaspoon salt, or to taste
¼ teaspoon fresh cracked black pepper, or to taste
 Directions
In a medium bowl, mix together all ingredients except spinach and dressing ingredients.
Add dressing ingredients to a separate small bowl and whisk together.
Pour over beans and mix. Add baby spinach and enjoy!
Click here and sign up to receive a free Masalabody.com Holiday e-Recipe book!
Nagina is a weight-loss and energy food coach for busy, ambitious women. Nagina shares the recipes that helped her lose 40 pounds with a demanding career and 2 kids on her blog, masalabody.com. Nagina has a BA in Molecular and Cell Biology from UC Berkeley and a MBA from NYU Stern School of Business.