[Review] Zero to Launch – Ramit Sethi's new course: Not just for beginners.
Here's why you should read this Zero to Launch review:
In Dream Life I described what happened a few weeks ago. I made $700, while skipping work on a Monday morning. This has happened many times before, but the fact that that day was a Monday morning amplified the experience.
That's what makes running an online business awesome! You can start it from anywhere, and make money everywhere!
Even when you're hanging out with friends like I did that Monday, or when you're sleeping – and yes, I often wake up with more money in my bank account.
Intrigued? I thought so. Let's now explain where Zero to Launch comes in.
Zero to Launch is Ramit Sethi's latest course on building your online business. Who's Ramit? I'll just stick to saying that he was recently featured in Forbes right next to Warren Buffet.
 Watch my review to learn pros and cons, my biggest ZTL insight, and the difference between Ramit Sethi's Zero to Launch and Marie Forleo's B-school.
Want specifics? My Results from Zero to Launch.
1. The past two months were my most profitable ever. This is no coincidence. It's the result of consistent application and refinement of principles I learned in Zero to Launch, Ramit Sethi's latest course.
2. In just the last month of Exercise Bliss, the only course that transforms lazy exercisers into eager, daily exercisers, I made 300% more.
Again, not a coincidence. This is the result of tweaking my sales funnel again and again, applying everything I learned in Zero to Launch. Here's a screenshot of how conversion went up after the first few tweaks.

3. My book "Surprisingly…Unstuck: The Power of Small Healthy Habits In A World Addicted To Instant Results" paid back all its expenses in just one month after its release in January.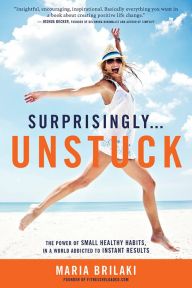 Again this is the result of grueling research and preparation before the relaunch of the book. As Ramit often says "Preparation is 80% of success".
With this relaunch, I changed the book cover and the tagline.
Previous Tagline: Rewire your brain to exercise more, eat right, and truly enjoy doing so.
Current Tagline: The power of small healthy habits in a world addicted to instant results.
The result?
Everyone gets impressed when they see it. "Wow" is a common reaction. Here's how it looks – it's even better when you hold it on your hands.
4. I get 2x more subscribers on a daily basis vs. what I did before Zero to Launch.
In Zero to Launch you learn exactly what activities generate 10x the results you need. You guessed it. Optimizing your e-mail opt-in is one of them! Yet, everyone knows that right?
What business owners don't know is how to optimize their opt-in. The result? People who would benefit from their work, stumble upon their website, don't understand they could be helped by it, and leave.
You could have made those people's lives' better, but you missed this opportunity. Why? Because you haven't done the research needed to communicate clearly.
5. I make a bigger impact and touch more lives.
Exercise Bliss e-mails like this are common:

Yes, people thank me for creating my product. Isn't this a beautiful experience? You can't imagine how happy such e-mails make me. I cannot even get enough of them. I know that many people doubt that I even read their responses, but believe me, they are wrong! I read everything, and I get over the moon happy when I discover that people feel better because of me. This is a wonderful experience.
6. I changed my positioning and redesigned my website. I cannot say "I'm done", but hey, I get "wows"! Plus, my homepage is the highest converting place on my site right now.
You can see the rebranding below:
And the best, most groundbreaking news…
7.  I'm launching a new business!
In my video review I talked about how Ramit made me see the "elephant in the room". However, I didn't say exactly what this elephant was. Well, let me reveal it now.
Even though I love helping people stop feeling guilty about not doing the right things, and make healthy living part of their everyday life… I just cannot deny my passion for business and marketing. That's what I do in my free time. I read over 50 business books a year. My friends come to me for business advice. Yet, even though I did all these things, I still didn't see that I had to get into business! It was the elephant in the room that I somehow missed!
So here I am, revealing for the first time my plans. Want to get notified when the new business website is up? Sign up below!
No, you don't have to quit your job.
If you have an idea but haven't yet taken the leap, then I recommend this course wholeheartedly. You don't have to quit your job to build an online business. You can keep your job, and build a revenue stream on the side. You'll make more money and keep enjoying your daily work.
Now if you're already running an online business, then I still have to recommend Zero to Launch. Why? Because you'll learn Ramit's strategies, and those strategies are extremely high-level.
So what do you think? Please don't e-mail me for extra advice – I put everything I needed to say in this review. Thanks for understanding, and I hope I helped!