Meet Marcela: How This Busy Mom Of Twins Lost 4 Inches Off Her Waist!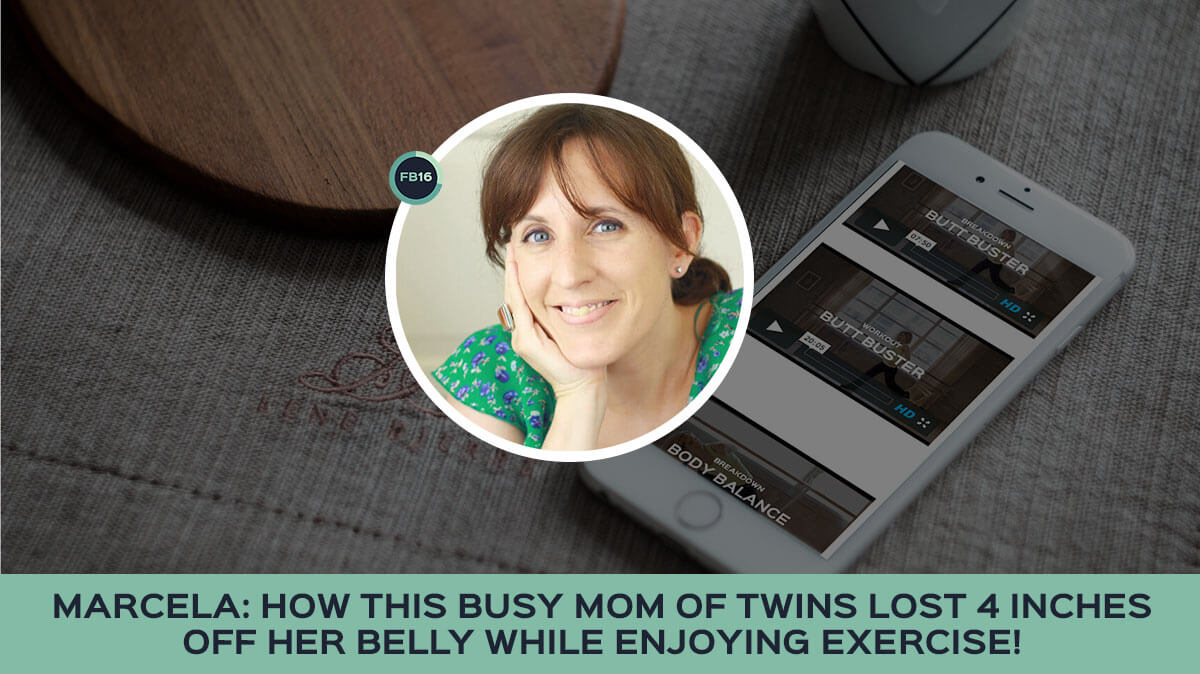 Marcela:

"I'm exercising for pleasure and not because it is a chore!"

This busy mom of twins was afraid that she would start and then give up exercise – again! Instead, not only did she lose 4 inches off her waist in her first 8 weeks of Flat Belly Firm Butt but she also found a workout that made her happy!

At a glance
The Problem: Being too out of shape, feeling she would never succeed.
"I was not sure whether I was going to be able to cope with the intensity of the sessions, given how out of shape I was. I was in a self-defeating mentality."
The Solution: Fun and effective workouts, just 16-min long!
"I loved the Flat Belly Firm Butt in 16 Minutes workouts. They were FUN. I was pleasantly surprised that the trainings were intense, yes, and I was tired at the end, yes…but they were doable, and I actually had a thrill and more energy when I was finished. And all in just 16 minutes!"
Her RESULTS: Still exercising 6 months later!
"I'm now exercising regularly, and for longer periods of time. I added 30 minutes of treadmill and yoga, just for the fun of it. I'm exercising for pleasure and not because it is a chore. More importantly, the program made me stick to a positive commitment towards my body."+
The backdrop
Marcela has a demanding schedule between kids, work, and home.
This former international lawyer works as a food and product photographer. She is mother to 6-year-old twins with special needs.
Between kids, therapies, and work, she put herself last.
Because her children require regular therapy, she has an extra layer of complication to her daily life. She admitted: "I put myself last. That started to show in my body." She found herself in very bad shape.
She started several programs and failed at them.
Finally, Marcela found Flat Belly Firm Butt in 16 Minutes, my online HIIT workout program. In just 16 minutes a day, 3 times per week, she carved time for herself. "I thought a program that asked me to commit to only 16 minutes a day was perfectly doable." Not only did she stick to it, she found herself loving exercise!
"If you have time for Facebook, for updating your status, you have 16 minutes to get in your sneakers and just jump around a little bit in your home."
Highlights from Marcela's story
"When you fail at something repeatedly, you stop believing you can do it."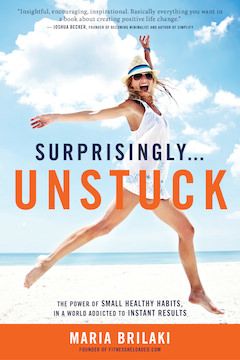 These words resonated so strongly with Marcela when she read them in my best-selling book "Surprisingly…Unstuck: The Power of Small Healthy Habits, in a World of Instant Results."
Since Marcela often started things and failed at them (we're talking exercise here, not in general – Marcela was an accomplished lawyer turned photographer after all), she had a self-defeating mentality. The book helped her realize she needed something she could stick to and that it was OK if that thing was small.
FB16 was just what she needed.
Marcela doubted she could even commit to 16 minutes a day. However, she was elated when she got results from the minimum effort of 3 days per week. After the program, she had lost 4 inches off her waist!
"I loved the encouragement. Maria sounds like a friend, not like a nasty gym teacher."
FB16 gave her more energy and improved her mood. Additionally, she found herself running faster with her kids at the park and climbing stairs more quickly. Since her work requires a lot of physical activity, her regular exercise gave her more endurance during her workday.
"It's more than just exercise, it's a healthier lifestyle. It's giving yourself a chance to do positive changes in your life that have a ripple effect and end up making you happier in general. FB16 made me stick to a positive commitment towards my body."
How she succeeded
4 Lessons From Marcela: How to lose 4 inches off your waist while liking exercise, even if you're a busy working mom.
1. Small wins helped change Marcela's mindset.
"Being able to consistently accomplish the trainings, even during travel and regardless of how busy my day was, was empowering and led to other lifestyle changes."
She found herself going to bed earlier and eating healthier. Additionally, she examined all the things that she was doing in autopilot that were damaging her, and the whys behind them. After digging a bit deeper into this, she had her hormone levels tested and found that she had high cortisol. She then sought the help of an integrative nutritionist to help her sort out how to continue her lifestyle changes.
2. Even though she was originally afraid to even commit to 16 minutes, she found herself adding more exercise.
Remember when as a busy mom, Marcela didn't think she could commit to just 16 minutes a day, 3 days a week? Well, she went above and beyond the minimal effort once she realized how much she likes to exercise.
"Because I was happy, I added more exercise."
She regularly adds 30 minutes of treadmill and yoga, just for the fun of it. Marcela was a mom who repeatedly put herself last and could not manage to stick to workout routines. Now, she exercises for pleasure – not as a chore.
3. It's not just about the number on the scale.
Marcela credits FB16 for helping her realize her progress isn't just a number on the scale. Instead, she recognizes the number of inches she's lost, and how much firmer her skin is.
Better yet, she built her self-confidence back up. A nice by-product of exercise, right?
"I'm happy enough with myself to show my picture again."
4. The FB16 workouts are FUN, hard, but not to the point of complete exhaustion!
"I loved your encouragement and your style. The exercises were very well planned, it was fun to do them. It was hard, but not to the point of complete exhaustion. The words you said here and there were very well-planned and always made me smile."
Marcela loved that she would be jumping around, dripping in sweat – but still had a smile on her face!
Are you afraid to start working out because you don't think you can commit to it?
FB16 helped this busy mom realize that working out can be fun. She overcame a viscous cycle of self-defeat, lost 4 inches off her waist, proved to herself she can actually commit to exercise, and gained a surge of self-confidence.
So let's take this back to you and think about what you can learn from her journey.
Leave a comment and let me know: What lesson from Marcela's journey seems the most relevant to you? How could you apply this to your own life?