Truffle Lentils in Tomato Sauce: You Haven't Had Lentils Like This Before!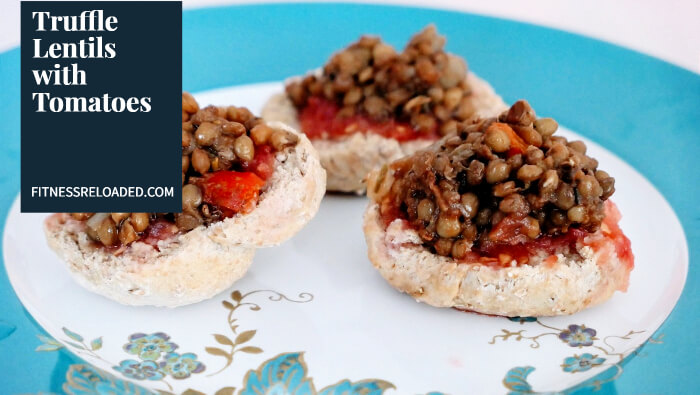 Are you finding it difficult to lose weight after the first 10 lb?
It could be because you aren't getting enough fiber in your diet.
The average American only eats 10 g of fiber a day, that's a 150% lesser than the recommended daily dose!
Incorporating fiber into your meals is one the first steps to making sure that the weight you lose, stays gone. Eating legumes (beans, chickpeas, lentils) is an easy way to do that, which is why I advise this to all my clients.
But that doesn't mean you need to stick to bland boring meals…
For a dose of some truly decadent ways of introducing fiber into your meals, take a look at what's on our menu today: Truffle Lentils in tomato sauce!
I came up with this recipe after I fell in love with truffle oil and all things truffle.
These lentils are high in fiber, involve very little prep time, and you can make large batches that store well in the fridge for a few days! The lentils can be added to salads, risottos, or eaten as a main meal.
These lentils take a fraction of the prep time needed to cook legumes like chickpeas and taste amazing by themselves, on some Greek bread, or watered down into a soup!
Truffle can be polarizing, so some people love it, others hate it. Will you experiment with this recipe this week? Let me know.
This recipe was first posted in the Reloaded membership program for people who want to lose at least 20 pounds or more. If you want to lose more than 20 lbs like a Badass get started here.