Get Unstuck: No More Yo-yoing!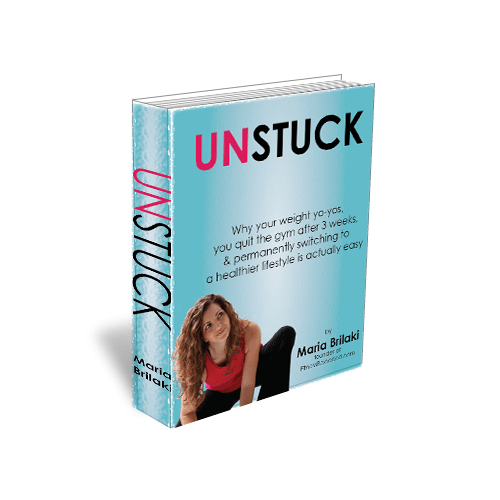 It is no secret that people view exercise and healthy eating as a chore. They feel they should do it, and push themselves to do it, yet they don't quite succeed. Then, they feel guilty, that they "gave in too easily", that they "didn't try hard enough", and just feel bad for themselves.
On top of that, others tell them that…
They didn't try hard enough
They didn't really want to change
They were not determined
Believe it or not, even though the statements above sound plausible, they are not actually true. Well, what if I told you that…
You could have not tried harder than you did?
You really wanted to change?
You could have not been more determined?
Could that be true? And if yes…then…you are wondering…
"Why the heck have I failed again and again at sticking to exercise and healthier eating?"
Some people get especially baffled with their behavior. E.g., they would really like to exercise, they like the feeling they get after they are done, yet they somehow cannot include exercise in their lives…permanently. And then they are wondering…
"Why don't I do what I want to do?"
Others get started with healthier eating or exercise, and try and try and try, and push some more to make themselves stick to it…
Does transitioning to living healthier have to be hard?
I had all these questions myself. For more than a year I have been researching this subject. The answer ended up lying in behavioral change, behavioral economics, and social science papers…
It appears that we humans are not wired to be rational.
This is just how our brain is structured. That's why we even don't understand why we do what we do.
I also found that if we don't yet live healthier, if our weight yo-yos, or if we have tried to stick to a program and have stopped…it's not actually our fault. No we could have not tried harder or wanted it more. It's just that we tried changing without accounting for our own irrationality. As I said earlier, we humans are not as rational as we like to think of ourselves.
I collected the knowledge from the academic world, combined it with my own knowledge about exercise and healthy eating, added case studies of real people's success stories, and packed it all in a book called "Unstuck".
It's for all of you who want to live healthier, either by eating better or exercising more, yet don't know how to make that change happen, last, and be pleasurable.
Here is a sneak-preview of what is in the 150+ page book…
Part I. Why you get the weight back, quit the gym after 3 weeks, & cannot make eating your vegetables daily a habit
The fallacy of "I need to try harder…"
Conventional wisdom has it wrong.
How people set themselves up for failure right from the start.
Why motivation is not the answer.
How willpower runs out.
It's not your fault.
What actually works.
Why most health & fitness resolutions are worthless.
Short-term vs. long-term goals.
Persuading the boss.
What makes me do what I do…just once?
What makes me do what I do…over and over again?
But why do habits form in the first place?
Habits and goals: Friends or foes?
How fast can you make a new behavior a habit?
Part II. How much should I do?
Informed Radical Change.
Ridiculously small steps.
It's not just black or white.
No more goals.
How much should I do?
How will I get there faster?
Part III. Tools to guarantee your success.
The harnessing motivation technique.
It's never as straightforward as it seems.
What makes a task easy or difficult? 20 Examples.
Triggers: Focus or distraction?
Making it IMPOSSIBLE TO miss your goal
The recipe for success.
Joy: The maverick of success!
Celebrating small victories.
When the goal is too long-term.
Urgency: The longer you do nothing, the harder it gets.
Belonging as the major attractor.
Money makes all the difference.
Accountability or social rejection?
Fun: What we are all looking for.
Work with your barriers.
Convenience can make or break your success.
Psychological barriers.
What does it all mean for me?
Part IV. Practice makes perfect.
Doing better than 90% of people.
Indulgence is a must.
Gaining momentum.
The world is yours. Go conquer!
The book will be first be available on Kindle.