No-Oil Vegan Baked Potatoes with Zucchini & Mint [Cretan Boureki]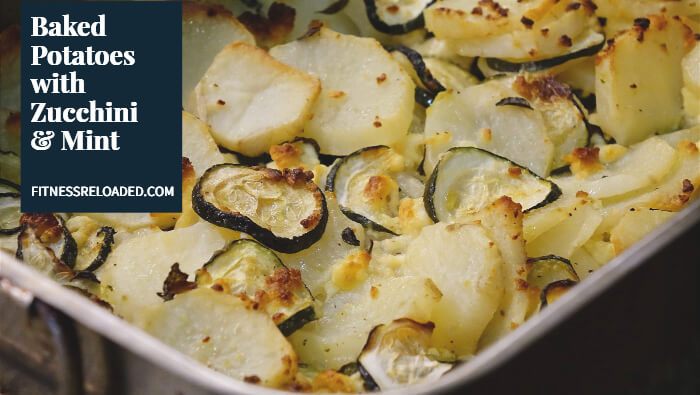 Meal-prep is one of my go-to strategies to make sure I get enough healthy and filling meals in my diet over the course of the week.
I like eating vegetarian for most days of the week and this Greek dish is a go-to that is on rotation probably once every 3 weeks.
It's a vegetarian side dish made with potatoes, zucchini, and loaded with fresh minced mint, the Cretan Boureki takes barely ten minutes in prep time and lasts a good 2-3 days when stored in the fridge. This recipe is lower in calories than how people would usually make it (because of no-oil) and makes for a great way to incorporate veggies into your diet!
I'll often make it on a Sunday night so I can have some on Monday and Tuesday.
You can add cheese if you want to make it vegetarian, or skip it if you want to keep it vegan. The total calories in this recipe do not include feta cheese and the recipe tastes just as good without it!
It's a great pair-up with a fresh salad, or some grilled salmon, and is a cheat's way of making two days worth of meals in just one go! Are you going to try to add the Boureki to your meal prep for an extra serving of herby roasted veggies?
This recipe was first posted in the Reloaded membership program for people who want to lose at least 20 pounds or more. If you want to lose more than 20 lbs like a Badass, get started here.