Great Northern Beans and Cremini Mushrooms in No-Oil Pesto Sauce!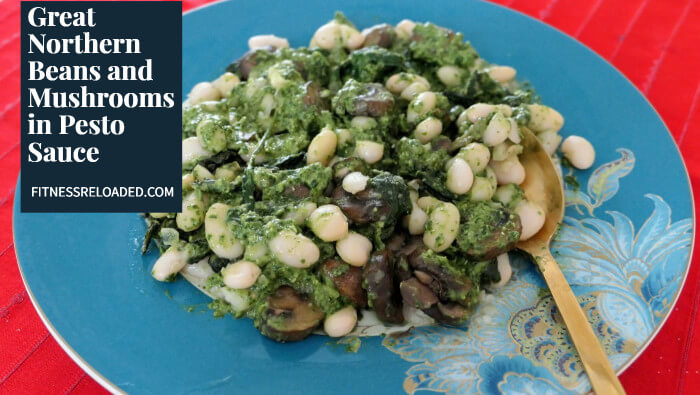 One of my all-time favorite things in the kitchen is to try and experiment with fun ways to add legumes and flavor into my daily meals. At Fitness Reloaded we eat legumes to make weight loss easy, but also to be healthy. So legumes are a go-to for the rest of your life, not just for when you're losing weight!
I've already shown you this killer no-oil avocado pesto and it just blew my mind with how creamy and fresh the sauce tasted.
So time to get creative…Can you make pesto beans? And would they taste well?
The answer is hands-down yes!
I try to incorporate different kinds of beans into my diet, as they are high in fiber, high in protein, and increase longevity. This recipe, for example, has 12 g of fiber in one serving and that's more fiber than an average American gets in an entire day!
So I took a minute before bed last night and soaked a pound of great northern beans in water overnight. And this morning I decided to make a super simple meal with beans, cremini mushrooms, and that amazing pesto I had waiting for me in the fridge.
Alternatively, you can use a pressure cooker and within 30 min the beans will be ready, no need to soak them ahead of time!
I used great northern beans for this recipe but you could use chickpeas or red beans and achieve the same results. I paired the Pesto Mushroom Beans with some toasted pita bread and my lunch was ready to go in no time! What's a legume you've been wanting to try and what will you make to incorporate fiber into your meals this week?
Click here for the no-oil avocado pesto recipe.
Click here for a more detailed take on how to make no-oil caramelized mushrooms!
This recipe was first posted in the Reloaded membership program for people who want to lose at least 20 pounds or more. If you want to lose more than 20 lbs like a Badass, get started here.