This Leg Flexibility Stretching Routine Got Me To Splits in 4 Months.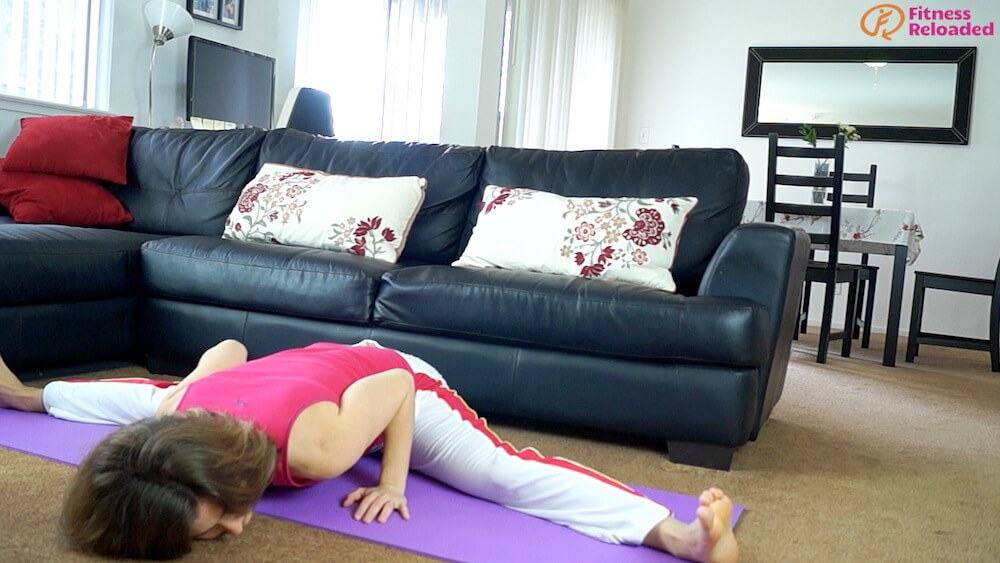 I always loved the idea of being flexible but it just didn't seem possible for me. Even though I could so splits when I was still in school, a thigh injury took my flexibility away. I went from flexible to stiff in an instant!
For years even the idea of splits caused me pain. Every time I tried to train for it, I would get re-injured at exactly the same spot on my thigh. Bye-bye flexibility dream.
How do you get more flexible?
You follow a consistent stretching routine, stretching at least 4 times a week for 10 minutes or more each time, like I did. This article will show you step by step what I did to do the splits in just 4 months.
I had tried and re-injured myself at least 10 times until I understood how to get over my chronic pain injury…for good. Then, flexibility was just a matter of following an effective stretching routine.
I was an eager student. In 4 months I went from totally inflexible to splits! I couldn't even believe it!
In today's episode I am showing you the exact routine I followed that helped me increase my leg flexibility.
What I can do after sticking to this stretching routine
I can now sit on the floor and actually open my legs wide.
I can (almost) touch my belly on the floor when I am in this position.
I can do splits.
I can touch my toes and bring my chest to my knee.
I still have a long way to go (yes, because I have BIG flexibility dreams) but I am truly happy with my progress. It's a lot more than I ever thought was possible for me.
In today's leg stretching routine I am showing all the preparatory stretches you need to do to get yourself ready for splits and dramatically increase your range of motion.
Ready? Let's go!
How do you Stretch?
First, you start out with my safe flexibility stretching guidelines listed here.  Having re-injured myself multiple times with stretching I am sensitive to this issue.
In short:
Warm-up first. Don't want to do it? Try the lean legs and butt for lazy people video. Or else, do some squats or a 30-min yoga butt blaster! Even my quick 8-minute HIIT cardio workout will get you ready to stretch.
Never feel pain.
Hold each stretch for 30 seconds.
The first 10 seconds of a stretch is the "easy stretch". You can push a little further afterwards.
Do two sets of each stretch (or more!). You will find you can go further with each set.
If you are really looking for flexibility, then you got to follow a stretching routine at least 4 times a week.
How do you stretch your legs?
Once you've warmed up and followed my safe stretching guidelines above, it's time to do the work! Here are the exact exercises that will stretch your legs so you can do the splits. If you want more our leg stretches article gives you a total of 12 exercises for a lower body stretching routine for all abilities!
Leg Stretching Routine Breakdown for Splits in 4 months
1. How far can you bring your chest to your knee?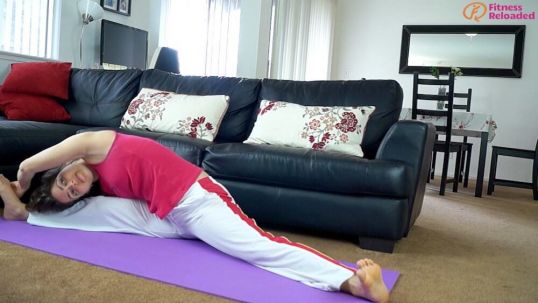 2. How far can you open your legs? How far can you walk your hands to the front?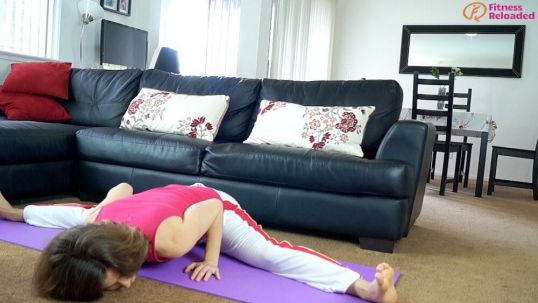 3. Can you touch your toes?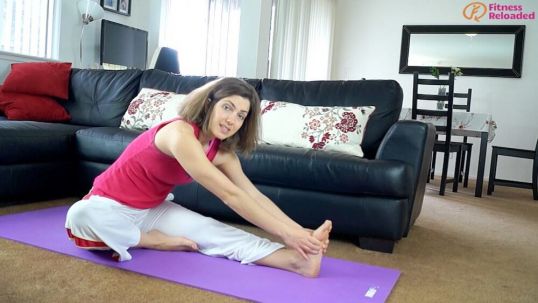 I dare you stick to this leg stretching routine. Do it at least 4 times a week for 4 months. Then, send me pictures with far you have gone! Will you take me up on this? Leave a comment and say yes!
I can't wait to see your results!