The Truth About Pus In Milk.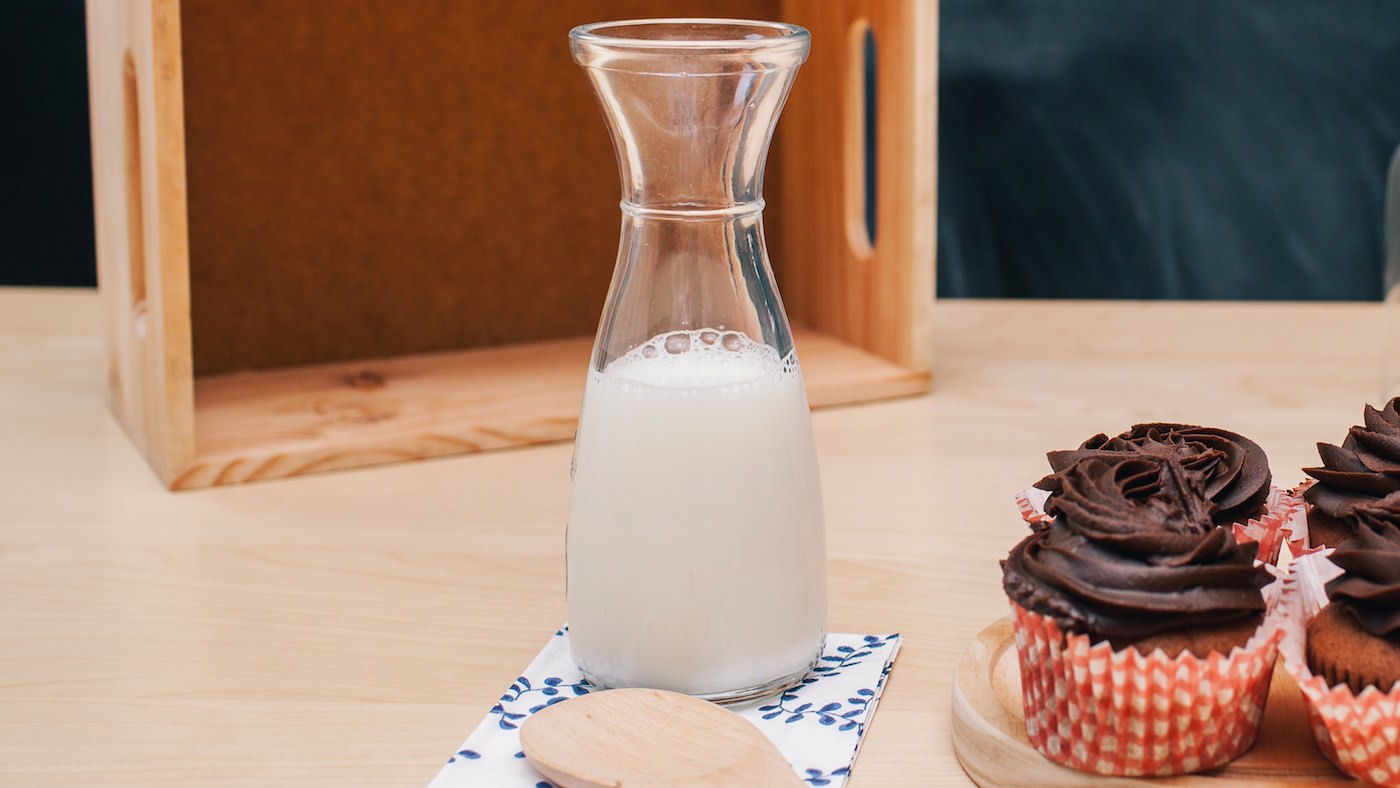 Today I came across a meme that advocated that a glass of milk contains 135 Million "pus cells!" Pus in milk? That's gross!
My BS detection instinct woke up. I smell something fishy here. I decided to investigate.
And I got good news! There's no pus in milk. There are of course white blood cells – but let's not confuse lymphocytes with the word pus or the term "pus cells." (There is no scientific term "pus cells.")
I don't know who first started the "pus in milk" campaign (see this and this), but PETA has definitely been involved in its spread. From PETA's website:
As in humans, white blood cells—also known as "pus"—are produced as a means of combating infection.
Notice that they equate white blood cells with pus. What a clever tactic to scare and gross you out. Pus contains much more than simply white blood cells. There are dead neutrophils present, live neutrophils, dead tissue cells, proteins, and dead microorganisms (e.g., bacteria) in pus. It's simply wrong to use the term pus and white blood cells interchangeably because they are not the same thing.
We use the word pus when an infection is present not in the absence of it. We don't use the word pus to describe alive and well and at normal levels white blood cells. A simple search for the definition of the word pus and we get "a thick yellowish or greenish opaque liquid produced in infected tissue, consisting of dead white blood cells and bacteria with tissue debris and serum."
Pus in milk is not the same thing as white blood cells in milk.
Neither organic nor conventional milk contains pus, but they both contain white blood cells, and they both need to pass the same regulations to be marked safe for consumption and reach the store.
Your blood, my blood, a cow's blood contains white blood cells – you know that, right? White blood cells are the ones who come to our rescue when an infection appears. So just like they hang out in our blood they hang out in milk too. Human breastmilk contains white blood cells. Same for cow's milk as well.
There's a specific term used to monitor white blood cells in cow's milk: Somatic Cell Count (SCC) or bulk-tank somatic cell counts (BTSCCs) .
High SCCs may mean the cow has an infection – most likely mastitis. In that case, her milk is thrown out. High SCCs may also act as a red flag for antibiotic residue violation (milk with antibiotic residues is also thrown out.)
Low SCCs make the milk of higher quality and hence farmers get paid more. Low SCC is correlated with higher cheese yield and better shelf life for pasteurized milk.
Farmers have a strong financial incentive to keep their cows healthy and free from infection. Yes, farmers get paid more for better quality milk, but also there are strong penalties should their milk fail the regulations. According to the USDA farmers may even get their permit suspended if their milk is repeatedly shown to contain above the limit BTSCC.
The maximum BTSCC may differ from state to state but can never be higher than 750,000 cells/mL in the USA or the more common 400,000 cells/mL in Europe. US farms usually aim for a count lower than 200,000 cells/mL and about 95% of milk in the US has a count of fewer than 400,000 cells/mL (source: USDA.)
Does a glass of milk contain 135 Million "pus cells?"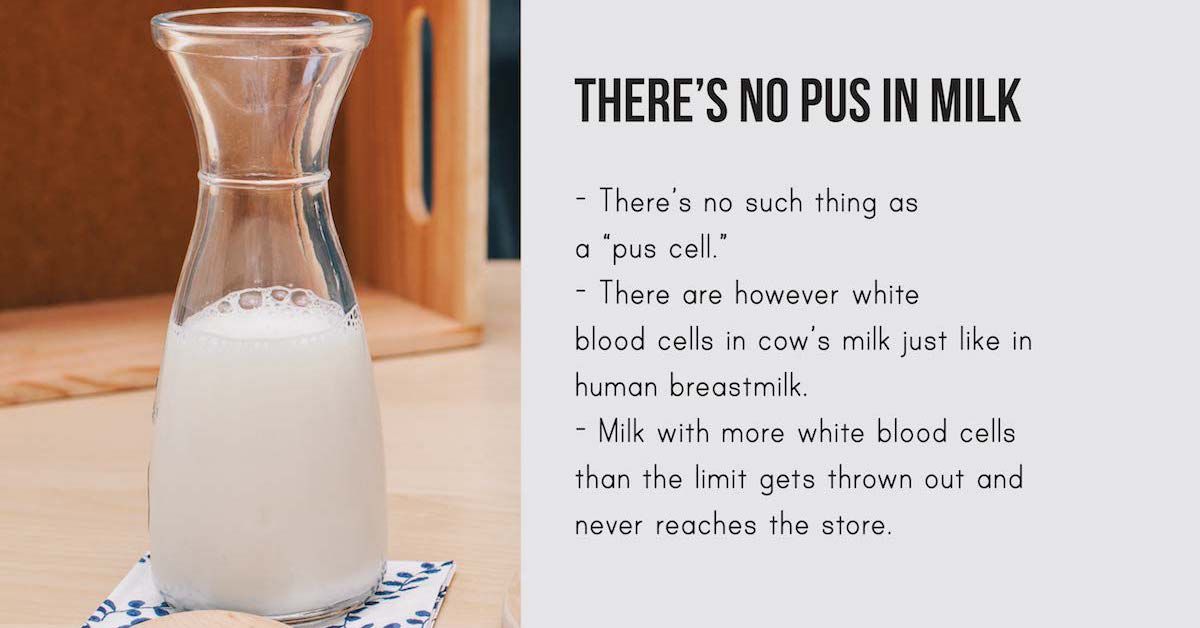 Say I wanted to discourage breastfeeding, human breastfeeding. What if I started referring to the white blood cells naturally found in human breastmilk as "pus?" I would make headway using this (false) argument. Who really wants to feed pus to their newborns? Exactly.
Now back to the claim that a glass of milk has 135 million "pus cells." Is that really true? Or is this another attempt to mislead you? Let's break it down.
First, there's no such thing as a "pus cell." (This is actually what first alerted my BS detectors!)
However, there are white blood cells naturally found in milk. One glass of milk includes about 250 mL. So a total of 135 Million white blood cells would give us 135M/250 = 540,000 white blood cells/mL, which is lower than the legal limit of 750,000 cells/mL.
I don't know where the 135 Million figure comes from, but even with that figure milk is still fine and within limits. In fact, the USDA reports that: "In 2013, during all months monitored, BTSCCs in 95.6 percent of milk produced were below 400,000 cells/mL." So the real number for the USA is not even 135 M. It should be lower than 250×400,000= 100 Million white blood cells.
Yet milk is presented to you as if it's gross.
What's the agenda of the source of your information?
While some vegans try to push you off milk, other parties have different agendas. For example, raw milk proponents present the fact that there are living white blood cells in raw milk as a good thing! Pasteurization, you see, kills white blood cells anyway. From the Mises Institute in their article to legalize raw milk:
Raw milk is more nutritious than pasteurized milk. Raw milk has living white blood cells, mammary-gland cells, various bacteria (i.e., probiotics), and several active enzymes, which are all destroyed in pasteurization.
I'm not a raw milk proponent, because raw milk can kill you and is not worth the risk. However, I needed to show this example to illustrate how the same fact – that milk contains white blood cells – can be depicted in a positive or negative light depending on each party's agenda. Vegan fanatics want to kill animal agriculture (note: not all vegans are fanatics.) The Mises Institute wants to legalize raw milk. Well…
The verdict: Pus in milk should not play a role in your decision to drink or not to drink milk.
I've previously written about faulty reasons to stop drinking milk. Well, "pus in milk" is another bad one. In my opinion, you may choose to drink or not drink milk based on multiple factors ranging from lactose intolerance, to religion, to personal preference – just to name a few. But "presence of pus" should not be the determining factor in your choice of whether to include milk in your diet or not.
Now leave a comment: Had you encountered the "pus in milk" claim before? Did it affect your decision to drink or not drink milk?