3 Day Military Diet Review: Can You Lose 10 Pounds In A Week?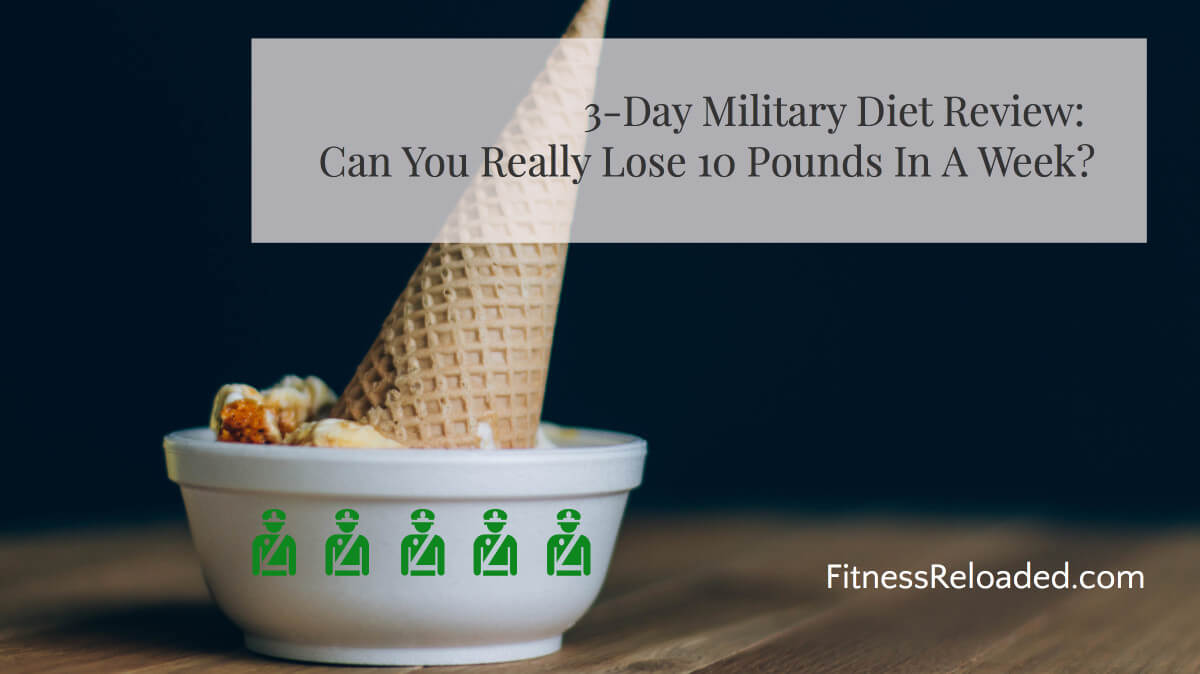 Maria here. We're moving on with the Diet Review Series with the 3 day military diet review, a diet that promises losing up to 10 pounds a week. Here's what Rachael Link, a registered dietitian, thinks about this after reviewing the diet and the science behind it.
Enter Rachael:
---
When I first heard about the Military Diet, I was immediately intrigued.
It advertises itself as "a fast way to lose up to 10 pounds a week" and claims that the diet "was designed by top secret nutritionists at the US military to get soldiers into tip top shape."
Naturally, in writing my 3 day Military Diet review, I turned to the one person who would know if the military really had some sort of secret special diet for soldiers: my dad.
After 20 years in the army, including a stint in the special forces plus another eight years working for the army as a civilian, I knew he would definitely give me the scoop on this super classified diet plan.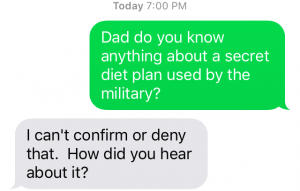 Not exactly as helpful as I had hoped.
A little digging, however, confirmed my suspicion that the Military Diet is not actually affiliated with the US military at all.
Just like the Cleveland Clinic Diet and the British Heart Foundation Diet aren't actually associated with those foundations, it's safe to say that the Military Diet was probably not actually developed by "top secret nutritionists" (whatever that means).
There are some pretty ridiculous, absurd, and downright dangerous diets out there.
The Baby Food Diet, for example, recommends replacing one to two meals each day with jars of baby food to cut calories and slim down. The Bulletproof Diet encourages loading up on high-fat foods and red meat, plus guzzling down a 400 calorie cup of coffee filled with butter in order to burn fat. The Blood Type Diet asserts that what we eat reacts chemically with your blood type, despite a complete lack of evidence to support that.
The Military Diet is relatively high up on the list when it comes to crazy fad diets.
The plan promises up to thirty pounds of weight loss over a month by restricting your intake for just three short days each week!
During your "on" days, you'll be able to consume foods like ice cream and hot dogs, and during your "off" days, you can follow your usual diet.
Sounds pretty appealing! But does it actually work?
Before we start with the 3 Day Military Diet review, here's what the diet plan actually entails:
Day 1:
Breakfast:
½ grapefruit
1 slice of toast
2 tablespoons of peanut butter
1 cup of coffee or tea (with caffeine)
Lunch:
½ cup of tuna
1 slice of toast
1 cup of coffee or tea (with caffeine)
Dinner:
3 oz of meat (any type)
1 cup of green beans
½ banana
1 small apple
1 cup of vanilla ice cream
Day 2:
Breakfast:
1 egg (cooked any style)
1 slice of toast
½ banana
Lunch:
1 cup of cottage cheese
1 hard-boiled egg
5 saltine crackers
Dinner:
2 hot dogs (no bun)
1 cup of broccoli
½ cup of carrots
½ banana
½ cup of vanilla ice cream
Day 3:
Breakfast:
5 saltine crackers
1 slice of cheddar cheese
1 small apple
Lunch:
1 slice of toast
1 egg (cooked any style)
Dinner:
1 cup of tuna
½ banana
1 cup of vanilla ice cream
Other Guidelines:
Water consumption is encouraged; you should drink as much as you can.
Avoid artificial sweeteners—only Stevia is permitted.
You're permitted to drink as much caffeine-free herbal tea as you'd like.
If you want to drink more coffee than what's included, black coffee is okay. Just cut out those 5 calories per cup from somewhere else in the day.
If you can't have grapefruit because it interferes with your medication, just mix ½ a teaspoon of baking soda with a glass of water and drink it. Yum!
On your four days off, you can follow your normal diet. For continued weight loss, it's recommended to stay under 1500 calories.
No snacks and no straying allowed. Every calorie, right down to that 5-calorie cup of coffee, has to be accounted for. And, as they mention directly on their website, size doesn't matter, only calories do.
Because that's the recipe for sustainable, long-term weight loss, right?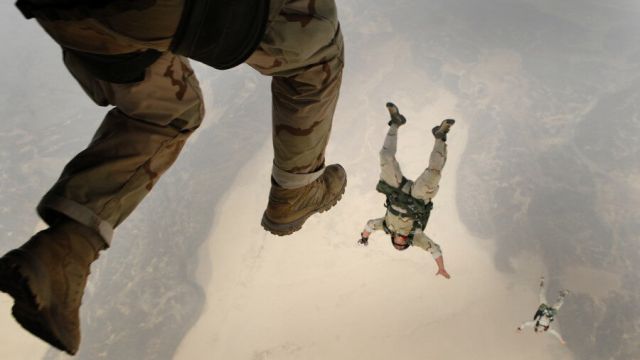 The creators of the 3 Day Military Diet review a list of reasons that their diet works on their website, claiming that it helps the fat melt off due to three reasons:
1) The Military Diet is low calorie.
The Military Diet provides less than 1000 calories per day, so they state that you're sure to lose weight if you follow their plan. After all, you're burning more than you're consuming for those three days per week, so that means the pounds should just slide off, right?
2) The Military Diet involves intermittent fasting.
And intermittent fasting inevitably leads to weight loss. As the Military Diet website claims, "fasting boosts your metabolism by switching your body's repair genes into 'on' mode." And if you don't fast, I guess those repair genes will be stuck in "off" mode forever.
3) The foods in the Military Diet rev up fat burning and enhance your metabolism.
Grapefruit supposedly switches the liver into "fat-burning mode" while those high-protein foods like tuna and eggs burn through fat during digestion because they require more energy to process.
Meanwhile, more calcium stored in fat cells means more fat burned by cells, so there's the explanation for the ice cream.
And, as they note, apples, a source of pectin, are included in the diet, limiting the amount of fat that can be absorbed by the cells.
3 Day Military Diet Review: 5 Reasons to Consider Passing the Military Diet trend
The claims made in support of the Military Diet are unfounded and not backed by any real science. Sure, you'll lose weight on the Military Diet, but you're likely to gain it right back soon after.
1) 1,000 calories/day is unhealthy.
You've probably heard of "starvation mode" before. It's just as scary as it sounds: when you restrict your intake too low, your body starts scrambling to find new sources of energy.
This means that fatty acids will be converted into ketones and muscle will be broken down to use amino acids for energy.
1,000 calories might seem like plenty, but it's really not.
A study in the International Journal of Obesity found that the average resting metabolic rate for women of normal weight was approximately 1,421 calories/day.
That's the calories the body needs just to breathe and function, never mind if you also occasionally walk, move around, or participate in any kind of physical activity throughout the day (as most of us tend to do).
Your metabolism kicks into starvation mode anytime it isn't getting the energy it needs from your food. Repeating the three-day cycle of the Military Diet a few times is likely to send your body straight into starvation mode, meaning you'll start losing weight, but it will be from all that muscle your body is breaking down.
2) The Military Diet promotes an unhealthy relationship with food.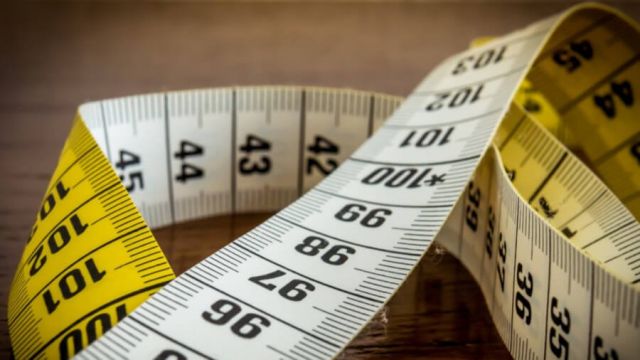 One of the most effective ways to promote weight maintenance is through fostering a healthy relationship with food and practicing mindful eating. This just means listening to your body, eating when you feel hungry, and stopping when you feel satisfied (and here's how to stop when you think you can't stop eating.)
Sounds pretty reasonable, right?
Apparently not for the creators of the Military Diet. An actual quote from their website:
"Portions on the Military Diet are probably smaller than what you're used to, especially if you're overweight. So yes, you will feel hungry sometimes. But you will lose weight. Remember, hunger is just a feeling we've all grown too accustomed to satisfying. The Military Diet is a great reboot for your body."
Yes, we've all grown too accustomed to satisfying hunger—you know, that cue that signals that our body needs food to provide us energy and keep us alive? Yeah, just ignore that. It's all good, though, because you're losing weight!
The militant (pun intended) rules and regulations of the Military Diet are also pretty questionable. Every calorie counts, so if you even dare to chew a piece of gum on the diet, you'd better be prepared to subtract those calories from somewhere else (one less bite of your five saltine crackers, perhaps?).
Not only is this a great way to lose weight, it's also a good way to develop some disordered eating patterns.
Looking beyond the obsessive behaviors encouraged by the diet, there are some serious negative psychological effects associated with extreme calorie deficits.
The Minnesota Starvation Experiment demonstrated just a few of the negative results of starvation. This 1944 study called for volunteers to test the effects of starvation given the widespread famine that was starting to spread across Europe during the Second World War.
Researcher Ancel Keys wanted to look at the psychological, social, and intellectual changes that occur with starvation specifically. 36 men volunteered to essentially become human guinea pigs for the duration of the 13-month study.
The study started with a 12-week control period, where the men were consuming about 3,200 calories each day. Then, calories were slashed in half and they were fed just 1,600 calories daily, well below their estimated needs, for the six-month starvation period.
The drop in energy reported by the men was almost instantaneous, as were the decline in motivation and the rise in apathy and irritability. They started developing strange eating habits, playing with food and adopting odd rituals, like licking plates or holding food in their mouth without swallowing.
Many even became obsessive about food, collecting recipes, withdrawing from social situations, and constantly daydreaming about eating.
After the starvation period ended, the participants began a 20-week rehabilitation program. Interestingly enough, while they started recovering physically, their mental states actually got worse.
Intense mood swings and aggression were coupled with their continued bizarre eating patterns. It took a full three months into the recovery period for their mood to finally return back to baseline.
3) The Military Diet can lead to long-term weight gain.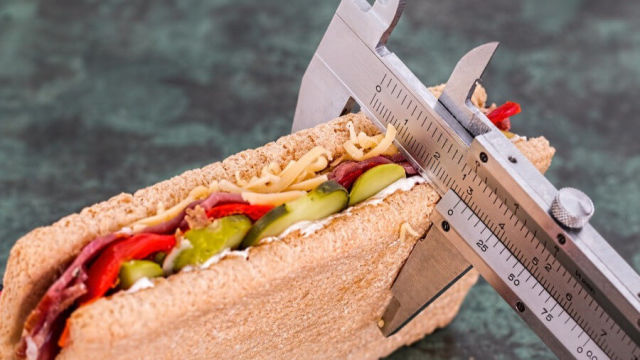 There's a reason fad diets and extremely restrictive diets are not recommended: they don't lead to sustainable weight loss and, unless you're under medical supervision, they can be an easy way for the pounds to pile back on.
Any time you start a new diet, you're likely to see a rapid drop on the scale. Most people get discouraged when the progress starts to slow down or plateau.
This is caused by water losses; as you start restricting calories, your body breaks down glycogen stores for energy. The depletion of these glycogen stores causes weight fluctuations as the body loses "water weight."
A 2007 review looking at the long-term outcomes of calorie-restricting diets concluded that low-calorie diets don't necessarily lead to lasting weight loss. In fact, they found that between one-third to two-thirds of dieters actually regain more weight than they lost while dieting.
Another review published in The American Journal of Clinical Nutrition analyzed the effects of low-calorie diets on weight-loss maintenance. They found that the average weight loss for the 20 studies included was 11.1 kg (24.4 lbs) and the mean weight change during the weight maintenance period ranged from a weight loss of 5 kg (11 lbs) to a weight gain of 14 kg (30.8 lbs).
The psychological effects of extremely restrictive diets can also contribute to weight gain and disturbances in eating patterns
In the Minnesota Experiment, many participants felt that their eating was still not "back to normal" after the three-month recovery period. Several recounted excessive eating following the study; one participant actually required his stomach to be pumped after binging while others reported significant amounts of weight gain.
4) There's no evidence for "fat-burning foods."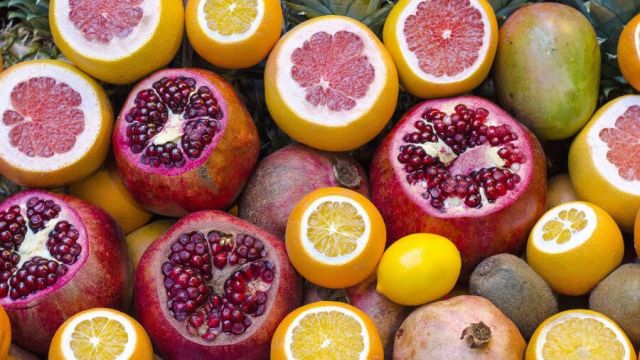 The idea of "fat-burning foods" can probably be traced to The Grapefruit Diet. Originating all the way back to the 1930s, The Grapefruit Diet started perpetuating the idea that grapefruits possessed some sort of magical fat-burning ability.
Sorry to disappoint, but there's just no evidence to support that any foods included in the Military Diet contain any sort of mysterious powers that melt away fat instantly.
Yes, certain foods included are high in fiber and low in calories. Grapefruit, green beans, broccoli, and carrots are all nutrient-dense foods that will keep you fuller for longer, minimizing cravings and likely leading to a lower caloric intake.
However, the myth of "negative calories" has been repeatedly debunked. You've probably heard about celery, the ultimate "negative calorie" food that supposedly takes more calories just to chew up than it actually contains.
Sounds very appealing, but it's unfortunately not true.
A 1999 study found that chewing gum for an hour burned just 12 calories. So those 10 seconds you spend chomping on a stalk of celery? Not significant.
It is true that some foods, like protein-rich foods, have a higher thermic effect and take more energy to digest, but it's not enough of a difference to classify them as "negative calorie" or make a huge impact.
Instead, consumption of high protein foods should be encouraged because they keep you feeling satiated and are nutrient-dense, providing your body with what it needs to function.
5) The foods included have a low nutrient-density.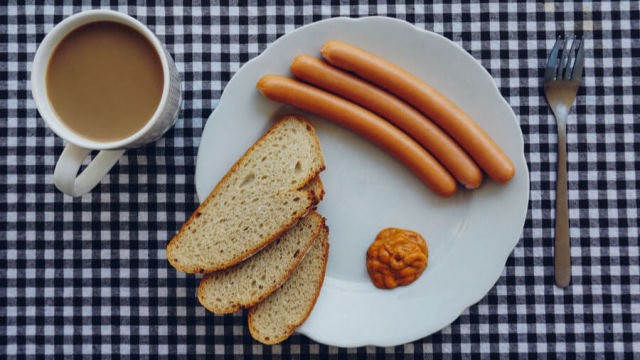 The military diet includes several foods that are not exactly nutrient-dense. For the same amount of calories, you could be eating foods that keep you feeling full and are higher in the good stuff, like protein, fiber, vitamins, and minerals.
A few healthier swap ideas:
1 cup of vanilla ice cream (274 calories)
-1 cup Greek yogurt and 1 oz chia seeds (258 calories)
-Fruit bowl with 1 cup strawberries, ½ cup blueberries, and 1 oz dark chocolate (243 calories)
-1 medium banana with 2 tbsp peanut butter (293 calories)
5 saltine crackers (70 calories)
-1 slice of whole wheat bread (70 calories)
-1/2 cup bulgur (75 calories)
-1/2 cup couscous (88 calories)
2 hot dogs (270 calories)
-4 oz grilled chicken breast and ½ cup sautéed spinach (250 calories)
-1 cup stir-fried vegetables and 4 oz baked salmon (277 calories)
-Veggie burger with bun and ½ cup kale chips (273 calories)
3 Day Military Diet Review: The Report Card
Sustainability: F
This is one diet that you shouldn't (and probably won't want to) keep up with long-term. Unless you're into intentionally depriving yourself and indulging in weird food combos, getting through even three days of this diet will probably be a challenge.
Effectiveness: D
You might lose weight on this diet, but it will only be temporary. This is not at all an effective diet plan for long-term, sustainable weight loss.
Nutrition: D
The only reason this doesn't get an F is because it throws in a few fruits and veggies for good measure. But hot dogs, ice cream, and less than 1,000 calories a day? Not quite nutritionally sound.
Overall Grade: D
The 3 day military review bottom line: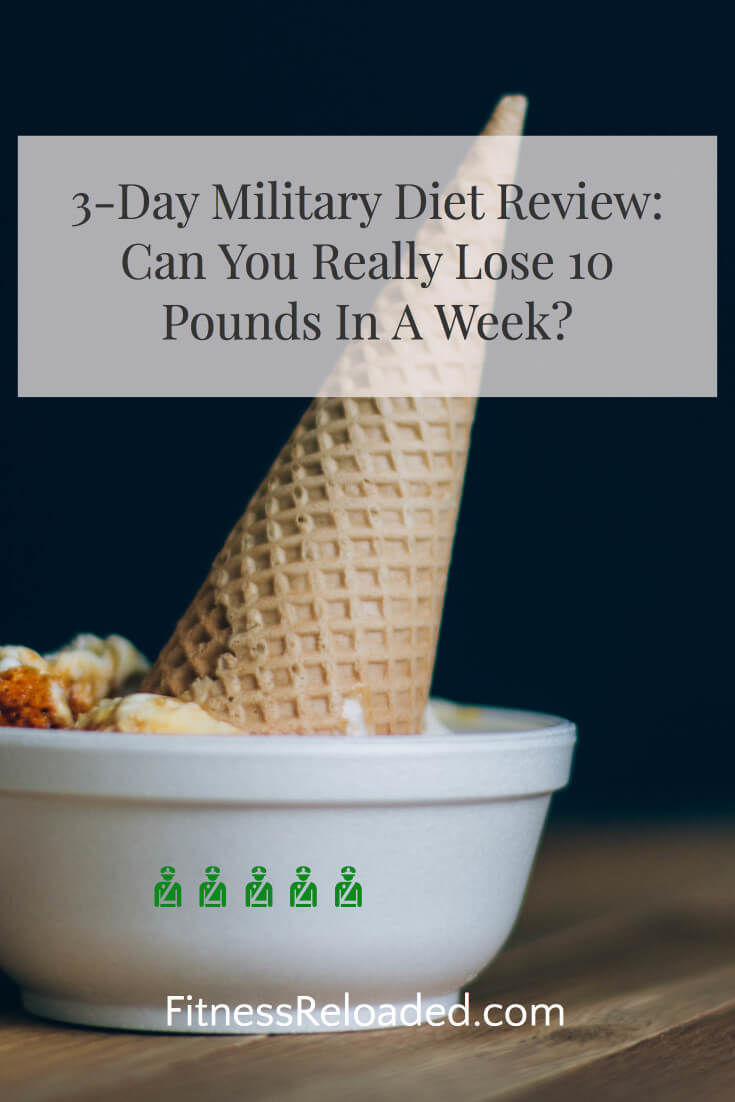 This could be the diet for you…if you're looking to lose a few pounds and risk gaining them back (with interest) shortly after.
I know losing weight is a difficult, slow, and sometimes painstaking process. Instead of turning to these unhealthy and unrealistic fad diets created by people with no nutritional knowledge, though, why not go with the evidence-based, proven guidelines set by the people who actually know what they're talking about?
Enjoy a diet rich in fruits, vegetables, and whole grains. Exercise regularly to keep your body healthy and celebrate the small victories when it comes to weight loss. Finally, don't succumb to the hype surrounding these crazy diets or clean eating trends; there's a reason they only last a matter of months before you never hear about them again.
Have you ever tried The Military Diet (or another equally crazy fad diet)? I would love to hear your 3 Day Military Diet Review–share with me in the comments!